The electrification transformation of China's auto market is very fast, it seems car makers will be eliminated by the Chinese market if it doesn't launch electric vehicles. Almost all the new vehicles launched by many traditional fuel makers are related to electric vehicles. For example, yesterday's Lynk & Co 08 series are all plug-in hybrid models, no more fuel models. On March 25, Dongfeng Motor's Forthing brand also brought a "brand new" pure electric SUV, Forthing Leiting (Leiting means "thunder" in China). The new car launched a total of 7 models, with a price range of 129,900 to 229,900 yuan.
Although it is officially said it is an all-new vehicle, Dongfeng Forthing Leiting is actually a rebadged Forthing T5 EVO, the latter is a fuel model launched in 2021. Except for a slight change in the front face, the power system is changed to pure electric drive by following the current Chinese market, the rest remains basically the same as T5 EVO. In terms of battery life, the new car will provide two options of 430km and 630km.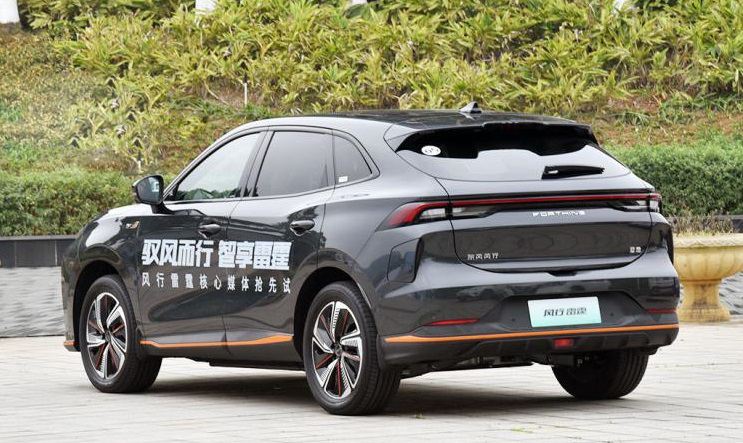 Speaking of the car brand Dongfeng Forthing, although it is a sub-brand of Dongfeng Liuzhou Automobile Co., Ltd., it relies on the endorsement of Dongfeng Group, and the quality of the passenger cars it launches is relatively reliable.
In terms of appearance, the overall design of the front face can be described as dynamic and fashionable. It not only has the closed front face design matches the current trend of pure electric vehicles, but also has a honeycomb-shaped decoration below. In addition, the exaggerated headlight combination consists of upper and lower parts. The upper part is slender and sharp, while the lower part is wide. Anyway, the overall is still very similar to Forthing T5 EVO,
Its body size is 4600/1860/1680mm in length, width and height respectively, and the wheelbase is 2715mm. At the rear of the car, the new car adopts a bar-type headlight design, and the rear enclosure adopts a diffuser-like shape.
In terms of interior, Forthing Leiting is exactly the same as its fuel version T5 EVO, using a floating dual screen, a flat-bottomed steering wheel, a circular air-conditioning outlet, and an electronic shift mechanism. The infotainment system is one of the highlights. It is equipped with Tencent HMI2.0 interactive system, and has software such as WeChat, Tencent Maps, and Tencent Video. It also supports functions such as voice interaction, vehicle remote control, and Bluetooth keys. In terms of intelligent driving, it is reported that the new car is also equipped with L2+ intelligent driving assistance system, full-scenario APA automatic parking and high-speed NOA navigation system.
Forthing Leiting is powered by a motor from BYD's FinDreams Powertrain, with a maximum power of 150kW and a peak torque of 340N m. The battery pack is a ternary lithium battery pack. It is equipped with a maximum battery pack of 85.9kWh, and the CLTC working condition has a maximum battery life of 630km. The entry-level version has a battery life of 430km.