● Interior trim: fashion, sport, outstanding space
Although a large number of plastic parts are used on MG6's interior, both quality and workmanship are satisfactory. The plastic cover on top of center console feels comfortable, its surface dull polished, the texture is relatively soft. The dashboard covers a very large area, all of the information are displayed in the same dashboard except the air-condition.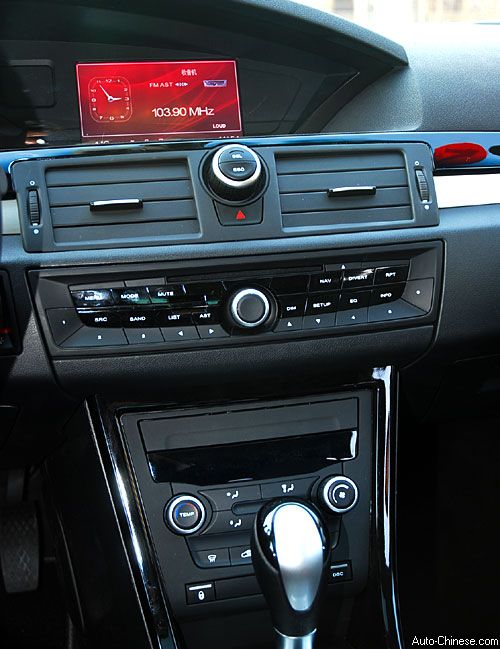 MG6 center console is T-type design, so that the cab is full with dynamic, to match human driving habits. MG6 adopts five-speed tiptronic transmission, gear lever is straight-line designed, and is very similar to Roewe 550. In addition, MG6 is also with 7-type handbrake design, and front center armrest designs as double storage capabilities, excellent practicality. MG6 steering wheel is dynamic 3-spoke design. and the steering wheel also features chrome decorative material, comfortable handle. MG6 steering wheel also features an integrated paddle shift, although it is plastic material, the texture was quite good. MG6's seat is sports car style design, The encapsulation of the seat on both sides are very good.
The indicator if the key ring is usually green, it will turn red while you press the key to start the engine, good visual effect. A selectable knob is designed on center console, but its most features are duplicated by the set of keys in the bottom, it can be omitted.
If we say Roewe 550 showed more in its charms of technology, then MG6 is much different, it shows consumers that the car's dynamism and new ideas. MG6 instrument panel and display are also integrated, but MG6 dashboard still uses the traditional pointer type design, more intuitive respond the vehicle information. The multi-function screen can display clock, audio, Bluetooth, temperature and other information, is very powerful.
Comments: MG6's interior design is very similar with its "Big Brother" Roewe 550
[amzn_multi_product_inline keyword='GPS' count='4′ page=" sort=" category='Automotive']