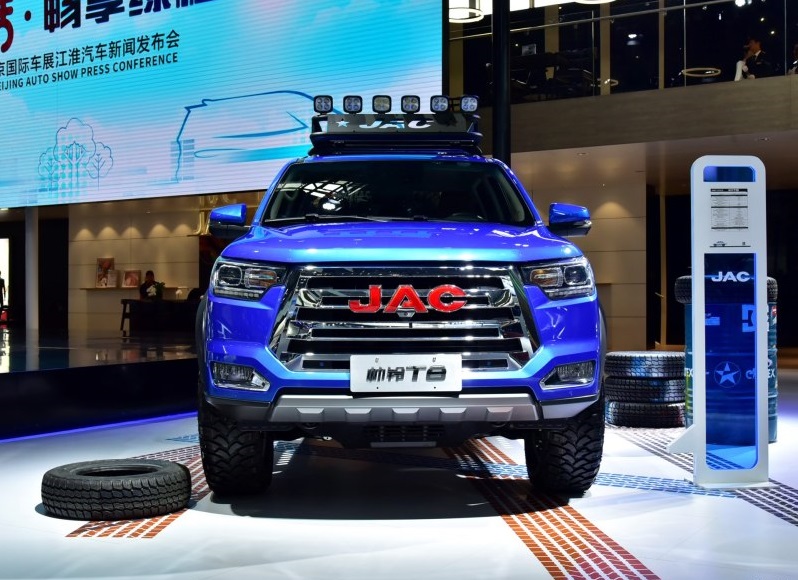 Recently, the "China Pickup Truck Blue Book Release Conference" was held in the Beijing Automobile Museum. At the meeting, outstanding enterprises that made outstanding contributions to the pickup truck industry in China were commended and presented. Among them, the JAC T8 (Shuailing T8), which is positioned in the "SUV-level Intelligent Big Pickup", has won the Best Intelligent Network Award for its outstanding product advantages and advanced Internet configuration.
JAC T8 is the latest pickup truck launched by JAC Motors. It is positioned above JAC T6. Currently, it is available in both gasoline and diesel versions in China market. It also provides both short wheelbase and long wheelbase versions. The price is 99,800-127,800 yuan (~US$14,479 – US$18,541) in China market.
From the appearance, JAC T8's shape is very tall, full of muscle and power. The front face adopts a large-area hexagonal air intake grille design, the thick electroplating decorative strip is connected with both headlights, the banner decoration strip on the grille is embedded in the red JAC badge, which is very conspicuous.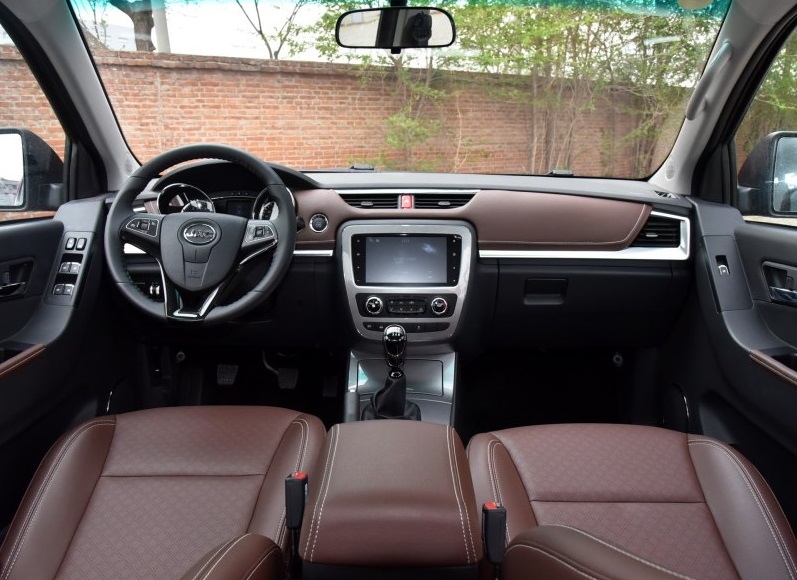 In the interior, gasoline and diesel versions have the same interior design. It is two-tone design, steering wheel is three-spoke with multi-function buttons, the central control area has an 8-inch high-definition large screen that supports GPS navigation and reversing image functions.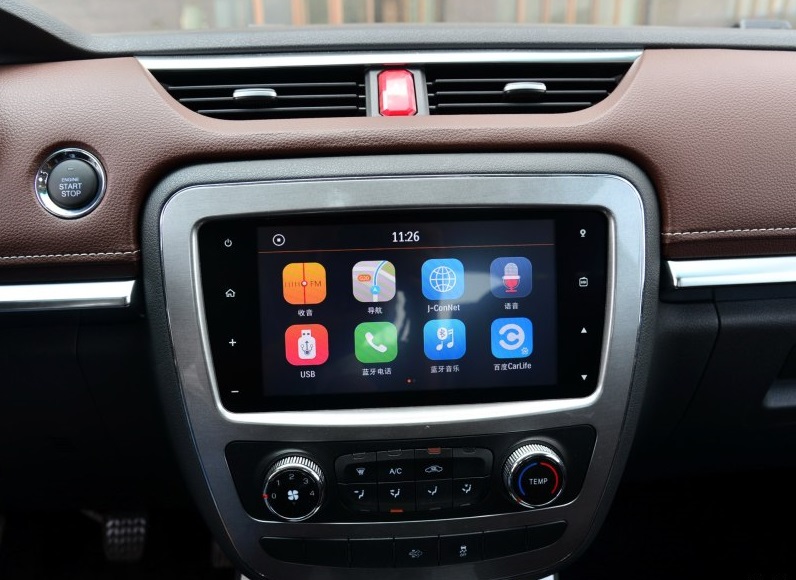 JAC T8 is equipped with the "J-ConNet2.0" car network intelligent system exclusive to the pickup truck. The user can download the mobile APP software to fetch the vehicle status, understanding the latest service information and remotely control the vehicle through the mobile phone. Users can quickly query the location information such as parking, refueling, car washing, etc. and then quickly send it to the car (These functions are available in China Spec, we are not sure if it is available in overseas version).
It is also worth mentioning that CarLife mobile phone interconnection system is able to transfer the functions on mobile phones, media players and other equipments to the vehicle system terminal through Bluetooth, USB, as well as voice control function provided by the car networking system to make and receive calls, turning on navigation.
In safety config, JAC T8 is also available in Bosch 9.1 ESP system as well as the 360 360-degree panoramic image. In addition to passive safety configuration, the active lane departure warning system (LDW) is also available.
JAC T8 is also equipped with a multi-function steering wheel, 8-inch high-definition digital LCD screen, smart key, push-button starter system, fixed-speed cruise and tire pressure monitoring and other intelligent systems, to provide users with a full range of intelligent driving experience.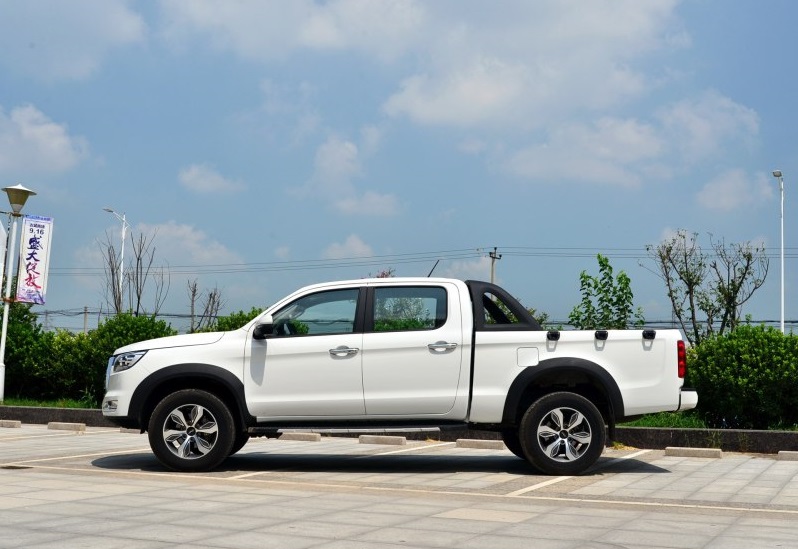 Body size of JAC T8 is 5325 × 1880 × 1830mm, the wheelbase is 3090mm/3380mm (Long-wheelbase). The front is equipped with 4 radars and a panoramic image front camera. The minimum ground clearance of the vehicle is 210mm. It offers two sizes on truck bed: 1520×1520×470mm and 1810×1520×470mm, it is sprayed with anti-scratch and corrosion-resistant truck bed liner.
JAC T8 Chassis: Double wishbone independent front suspension for both handling and comfort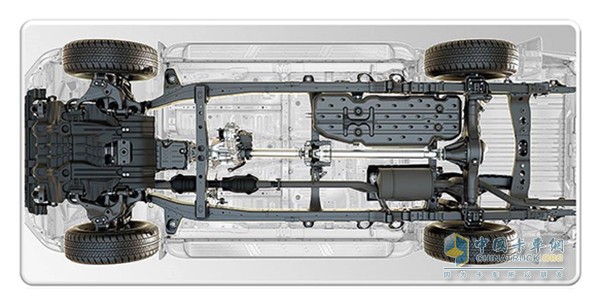 JAC T8's front suspension uses an independent suspension with double wishbone + coil spring. The double wishbone suspension is structurally more stable than other suspensions and is better able to suppress roll, at the same time, the lateral rigidity is stronger, which is very important for off-road. This type of suspension is commonly used in many high-end off-road vehicles or sports cars due to its high cost, such as Toyota Prado and Land Rover Range Rover.
BorgWarner electronically controlled transfer case + rear integral bridge suspension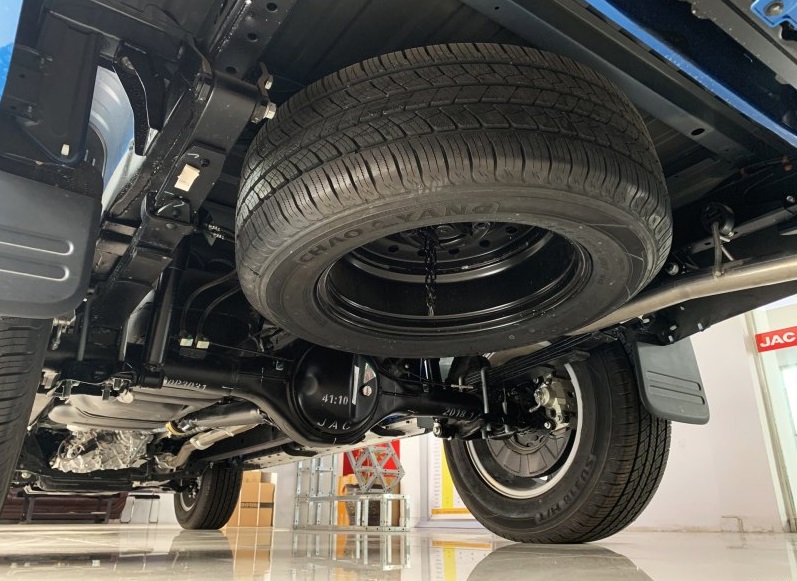 Speaking of the four-wheel drive, the most reliable and efficient one is the time-sharing four-wheel drive. JAC T8 is equipped with an ESOF electronically controlled time-sharing four-wheel drive system from BorgWarner. The driver can switch between two-wheel drive (2H) and four-wheel drive (4H) with a single button under speed of 80km/h. At the same time, it has a low-speed four-wheel drive, that is, a torque amplification mode, which enhances the ability of off-road.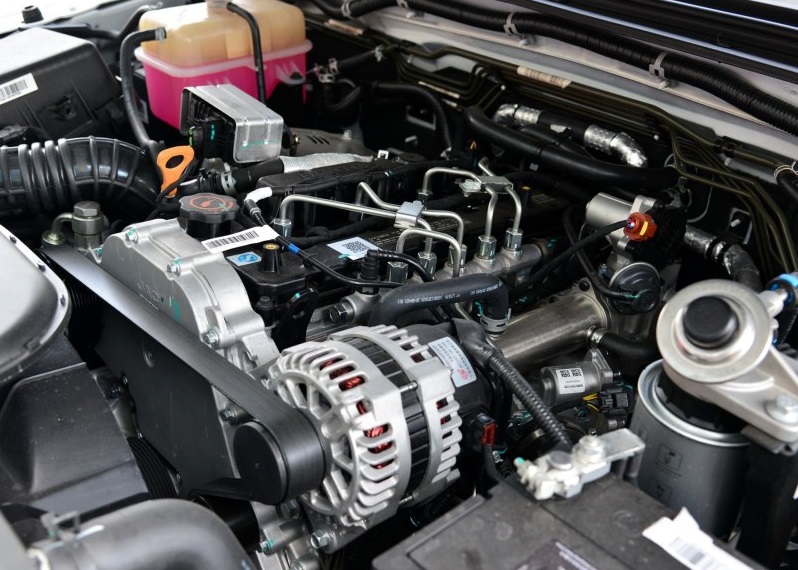 JAC T8 offers both gasoline and diesel power combination, the diesel version is the Green Jet CTI 2.0-Liter 4-cylinder turbocharged diesel engine codenamed HFC4DB2-1D1 manufactured by JAC Motors itself, the max power is 102kw(139ps) and max torque is 320N.m/1600-2600rpm.
The gasoline version is powered by a 2.0-Liter 4-cylinder turbocharged engine codenamed HFC4GA3-4D with max. power of 140kW(190ps) and max torque of 290N.m/1800-4000rpm, both versions match with 6-speed manual gearbox.