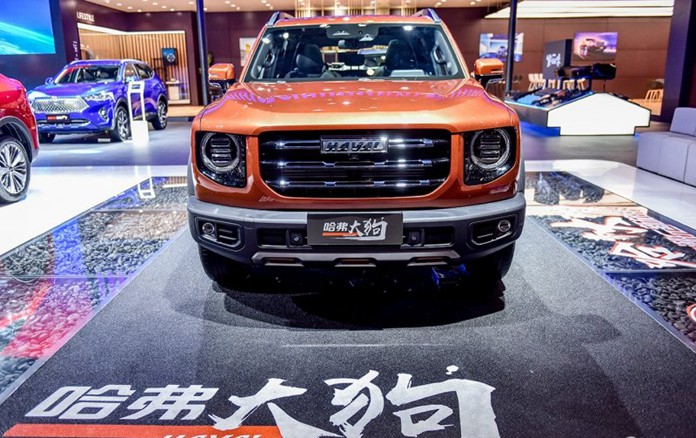 There are many cases where animals are used to name car brands or products, both in China and abroad. But the recent Haval new model Haval Big Dog has really attracted the attention of many people, not only the name is attractive, but the new car shape is also memorable. Recently, the Haval Big Dog, which was unveiled at the 2020 Chengdu Auto Show, attracted the attention of countless people, and the attention was very high. The new car is based on Haval's new vehicle platform, positioned between the urban SUV and the hard-core off-road. The appearance is tough and it has a stronger off-road performance. It is understood that the new car will be officially launched in mid-September this year.
In terms of appearance, the overall shape of the Haval Big Dog is very tough. It uses a large hexagonal grille with three thick chrome strips running through it. There is the Haval car brand LOGO in the middle of the top chrome strip. The round headlights are unique in shape, which is completely different from the increasingly narrow and sharp style of mainstream urban SUVs. With large bumpers and tow hooks and fog lights on both sides, the overall appearance is very powerful.
On the side of the body, the lines on the side of the car are smoothly designed, giving a round and full visual impact. On both sides of the body, the new car uses two different sizes of 18-inch and 19-inch wheels and uses two-color petal-style wheels. At the rear, the new car uses a new model of taillights, the interior is also decorated with LED light sources, which is very recognizable after lighting. The bar-style decoration is integrated with the Haval LOGO. It is still equipped with a protruding anti-collision beam at the low part of the tail, which is wild. In terms of size, the length, width, and height of the new car are 4620/1890 (1910)/1780mm, and the wheelbase is 2738mm.
As for the interior, the interior design focuses on the hardcore style. The overall interior is mainly black, with a small number of orange chrome strips embellished, full of youth and fashion. The large central control screen adopts an irregular oval design, which is simple and delicate. At the same time, two large-size LCD screens and a knob for gear shifting add a sense of technology. In addition, in front of the co-pilot, a thick armrest also appeared, making the off-road atmosphere more intense.
In terms of power, the new car will be powered by a 1.5T turbocharged engine code-named GW4B15A, with a maximum power of 169 horsepower (124 kilowatts). In the future, a model powered by a 2.0T engine will be launched. The model will also be provided in a variety of driving modes, and be equipped with two differential locks, tank U-turn, intelligent four-wheel drive, and other functions.