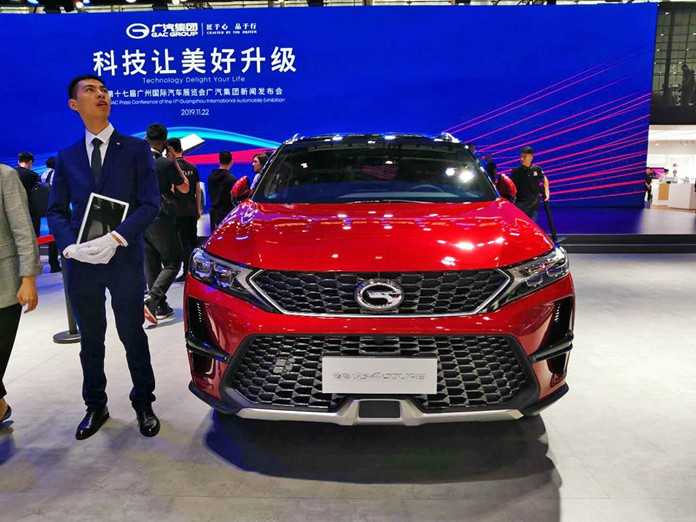 GAC Trumpchi GS4 COUPE was unveiled at the 2019 Guangzhou Auto Show. The new car uses a coupe SUV slip-back design, which is significantly different from Trumpchi GS4 – the ordinary version in appearance, but the interior and powertrain are consistent with Trumpchi GS4. According to previous official news, the car will be launched in the first quarter of 2020.
In terms of appearance, the front face of Trumpchi GS4 COUPE is different from the GS4 ordinary model. It does not use GAC's family design language. Instead, it is divided into two upper and lower grilles. The headlights use a flat design style, giving a wide-body effect. Lightning shaped daytime running lights are quite sharp, the internal structure of the light group is more complicated and the details are more delicate. There is also a radar module at the edge of the lower grille, which should be equipped with ACC adaptive cruise function.
On the side of the body, GS4 COUPE looks very similar to the usual coupe SUV. It has a slip-back design, the roof and body are treated with two colors, the waist line runs from the front lights to the tail lights, the wheel style is different from the GS4 ordinary version, the tire is 235/55 R18.
The rear part of the car is extremely heavy due to the body's waistline. At the same time, the tail light shape also uses a V-shape, which is different from the GS4 ordinary version, the exhaust port uses a bilateral single-out design. It is worth mentioning that the car body is wrapped in carbon fiber-like texture in many places, the shape is quite exaggerated.
In the interior part, the overall layout of Trumpchi GS4 COUPE is no different from the GS4 ordinary version. It also adopts a 12.3-inch screen design, especially the center console with dual "X" elements as the design core. The hidden air-conditioning outlet and wireless charging of the mobile phone are all available.
In terms of power, Trumpchi GS4 COUPE is consistent with the GS4, it is powered by a high-power version of the 1.5T turbocharged engine, with maximum power of 169 horsepower and peak torque of 265 N · m.