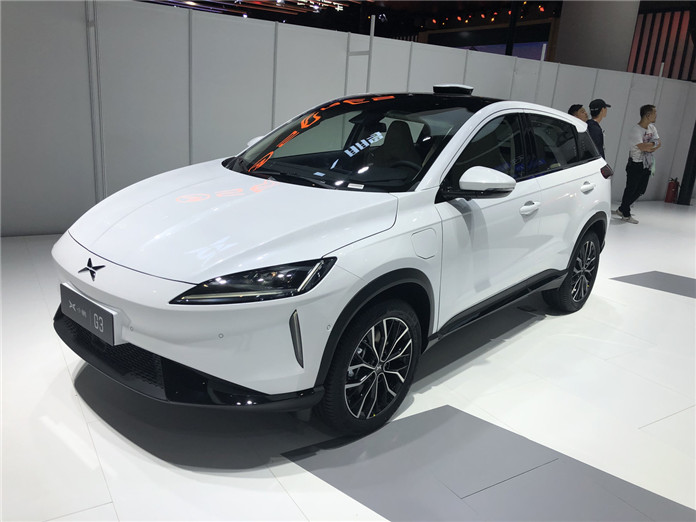 On September 5th, Xpeng Motors held a press conference of "Born Intelligent" at the Chengdu Motor Show, this is the first time its smart SUV 2020 Xpeng G3 and smart electric coupe Xpeng P7 unveiled in Chengdu Auto Show.
At this conference, Xpeng Motors announced the delivery of 2020 Xpeng G3, and Xpeng P7 will be officially launched in the second quarter of next year and will be delivered simultaneously.
Xpeng G3
As a Chinese EV startup, Xpeng G3 is the first EV from this company. Compared with the outgoing 2018 Xpeng G3, the biggest difference of 2020 Xpeng G3 is reflected in the cruising range. Under the NEDC comprehensive working condition, the 2020 Xpeng G3 400 has a range of 249miles(401 km), the long range version, 2020 Xpeng G3 520 has a NEDC comprehensive cruising range of up to 323miles(520 km) (the range outgoing models are 351km – 365km).
Huge vertical infotainment system is the hightlight of G3

The Tesla-like front windshield
2020 Xpeng G3 features XPILOT 2.5 automatic driving assistance system, TJA( traffic congestion assist) and ICA (intelligent cruise assist), ALC (automatic lane change assist) and many other automatic driving assistance functions. Xpeng Motors said that the above functions can realize the L2.5 level automatic Driving function. In addition, the new car has different degrees of optimization and improvement in terms of chassis, handling stability, ride comfort and braking performance.
Xpeng P7
As a high-end coupe model that Xpeng Motors intends to refresh its definition of "smart car" concept, Xpeng Motors said that the theoretical NEDC cruising range of the Xpeng P7 is expected to exceed 600km, 0-100km / h acceleration time or can be 4 seconds, the high trim model will be also equipped with dual-motor four-wheel drive. The length of Xpeng P7 will reach 4.9 meters and wheelbase of 3 meters, the official says P7 is based on the German luxury sports car in terms of chassis and suspension specifications and tuning, the goal is to overtake the mainstream mid-size car, and compare it with the large-size car. In addition, relying on its intelligent hardware foundation, P7 is expected to achieve L3 autonomous driving functions.
Xpeng Motors starts to deliver its EV at the beginning of this year, it has already delivered more than 10,000 vehicles.
About Xiaopeng Motor