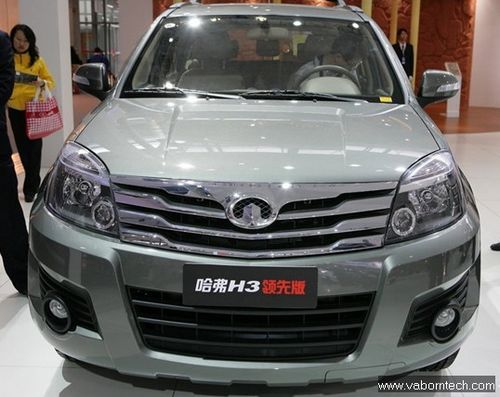 Haval (Hover) H3 (X240) is an economical SUV model from Great Wall Motors, the most different change on this new model is that it equips with an 2.0L 4G63 engine which is more eeconomic and environmental friendly.
We would like first to see the body size of Haval H3, it is 4620mm*1800mm*1810mm which is almost the same other of Hover series models (whatever 2.4L gasoline models or 2.5T diesel models), just the height is 100mm higer than others, it meas the more space it has in cabin.

The other one difference from other Hover SUV is the head face, the brand new fur streak seem more powerful than old there ones. The area of the engine air inlet is larger than the old one.
In addition, the circle foglight is also an new new design on Hover H3, it is defferent with the  former 2.4L or 2.5T models.
The whole series of Hover H3 are two-driver models, tyres are KUMHO brand, the spec is 235/65 R17 which is the same as other of Hover SUV models.

Interior trim, the operation area of certer console is bigger than other Hover models, USB interface, CD player which supports mp3 files are newly added on this models
Power: Hover H3 equips with an 2.0L 4G63 S4M engine, the engine adopts with SOHC,16 valves, in addition, it also equips with the top advanced Delphi RFID technology, the max power is 90kW, max torque is 170N.m which is 10kW and 30N.m less than 4G69 engine.
[amzn_multi_product_inline keyword='vehicle' count='4′ page=" sort=" category='Automotive']