Fengjun (Wingle) 7 Gasoline Version pickup from Great Wall Motor (GWM) was officially launched in China market on May 20, 2019, with price range of 86,800-123,800 yuan (~US$12,582 – US$17,945). The overall design language of Fengjun 7 Gasoline Version is consistent with Fengjun 7 Diesel Version. The highlight is that it is powered by a 2.0T gasoline engine code-named GW4C20B and meets China-VI (CN-6) emission standards, it is matched with 6-speed manual transmission.
In terms of appearance, the overall appearance of Fengjun 7 is tough, the front face is some kind of rude and powerful, the chrome grille is highly integrated with the blackened headlights on both sides, the lamp set is combined with lens + LED daytime running light.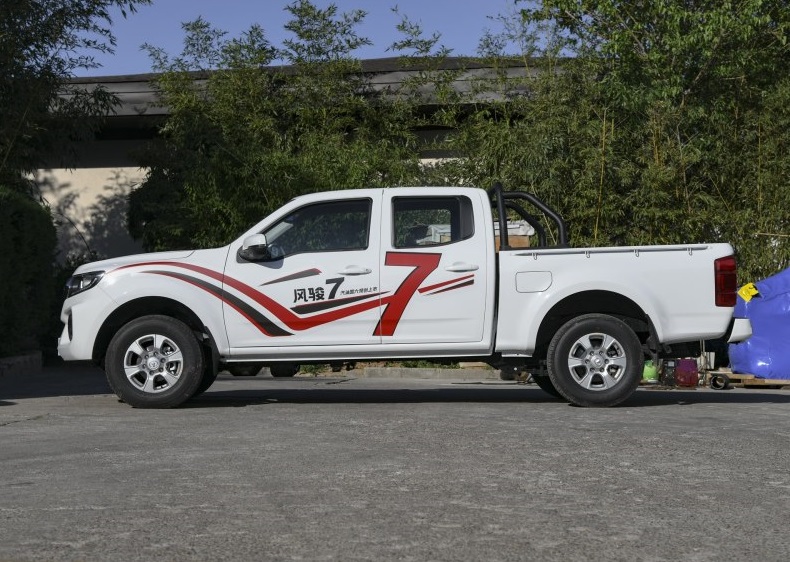 Fengjun 7 offers two variants according to the cab size, the Full-Size Cab (Crew Cab) and Short-Size Cab (Extended Cab). This is also the same as most pickups. In terms of body size, the Extended Cab model measures at 5095/1800/1760mm and the wheelbase is 3050mm, truck bed size is 1380/1460/480mm. The height and width of Full-Size Cab model remain the same, but the length has reached 5395mm, and the wheelbase has also increased by 300mm. The length of the truck bed has also increased by 300mm, reaching 1680mm.
In the interior part, Fengjun 7 adopts the passenger-car-style concept, the cockpit is not so monotonous, a large area of soft leather wrap, a multi-function steering wheel and stylish instrument panel, enhance the quality and make driving more convenient. The central control is equipped with a large-size floating display, which also greatly enhances the overall technical atmosphere.
The new Fengjun 7 Gasoline Version is powered by a 2.0-Liter turbocharged engine code named GW4C20B, the engine is independently developed by GWM, it is also the same engine carried on Haval H9. Max. power is 120kW(160hp), max. torque is 330N.m.
The new Fengjun 7 features an intelligent voice interaction system jointly developed with IFLYTEK, waking up the voice control system by saying "Hello Fengjun" (only in China market), it can realize music playback, navigation, air conditioning, weather query, etc. To meet the needs of various network life services.
The active safety aspects of Fengjun 7 include Bosch's 9th-gen ESP, HHC, BA, reversing image, reversing radar, and tire pressure monitoring. In terms of passive safety, it has high-strength cage body, high-strength door anti-collision beam, 6 airbags, four-wheel ventilation panels and other guards.
Sales volume of GWM's pickup is the No.1 in China market for more than 21 consecutive years, with market share of 36%, it is the only one sales volume has exceeded 100,000 units in China market. It is understood GWM's brand-new Pao series pickups will be listed in the second half of 2019, it was unveiled at 2019 Shanghai Auto Show in April.