Dongfeng Fengguang (Fengon) 580 Pro officially opened for pre-sale in China market at the Chongqing Auto Show. The price range is 90,000-120,000 yuan (~US13,015 – US$17,354). Fengon 580 Pro is actually the facelift of Fengon 580 which is refreshed in appearance, interior, space, power, chassis, intelligent network system, it plans to go public in the third quarter 2019.
Since the listing in 2016 in China, the cumulative sales volume of Fengon 580 has exceeded 400,000 units.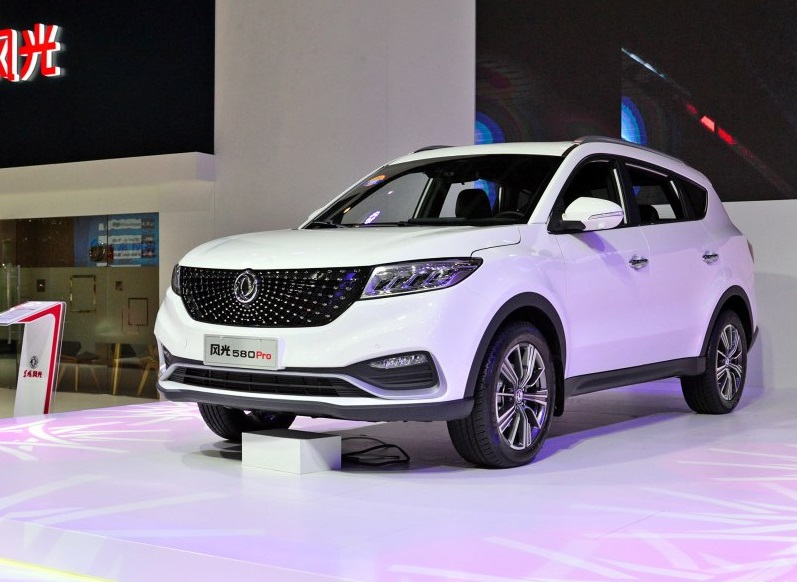 The front fascia has been redesigned, the front face design adopts the current popular dot-matrix starry sky style grille design, similar to its first coupe SUV – Fengon ix5, it looks more sporty. It equips with new matrix LED combination headlights to create a simple and elegant beauty; the rear end is more stylishly recognized by the "FENGON" logo
In terms of size, Fengon 580 Pro has a length, width and height of 4715/1845/1715mm and wheelbase of 2780mm.
For the interior, the center console style of Fengon 580 Pro is relative simple. 15.6-inch +12.3-inch large intelligent dual-screen, and the new knob-type shift lever, three sports steering wheel and other new elements, enhance the visual grade. The seat is two-tone design, the third row looks quite good.
In terms of space, Fengon 580 Pro features a 6-seats layout as well as the original 5+2 seats layout. In addition, the ultra-wide electric panoramic sunroof, the main and auxiliary multi-directional power seats, electronic knob shifting, electric tailgate are added on the new car.
In terms of power, Fengon 580 Pro keep the same 1.5TGDI+CVT power combination, with a maximum output of 110kW (147hp), it features a variety of driving modes and a variety of power assist modes.
Fengon 580 Pro features a new chassis with front McPherson and rear multi-link independent suspension.