On September 26, Baidu announced that it officially opened the Apollo Autopilot Taxi Team (Robotaxi) for trial operation. It is reported that the 45 Hongqi EVs jointly developed by FAW Hongqi and Baidu will be used as the first Apollo self-driving taxi team to operate in the opened test road sections in Changsha China. From now on, ordinary Changsha citizens can apply to become seed users on the Apollo official website and have the opportunity to conduct test ride experience.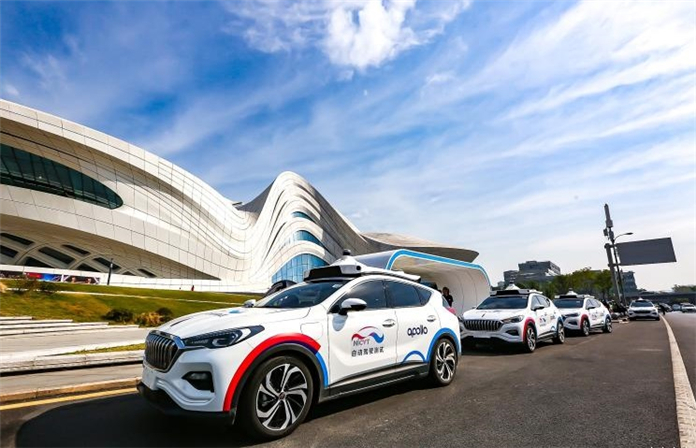 Editor's Pick: Baidu Unmanned Taxi Tests in Changsha: Apollo Technology, FAW-Hongqi Vehicle Team
During driving, Apollo self-driving taxi is able to automatically change lanes according to road condition, and can also judge the driving situation of surrounding vehicles and automatically avoid the situation of close-up overtaking. If there is a pedestrian passing in front of it, the vehicle will also be very "smart" to slow down the brakes, courtesy to avoid. During the whole journey, the passenger area screen shows the road conditions of pedestrians, cars and even some traditional blind spots on the road. Even if the vehicle is blocked, passengers can see the change of the traffic lights ahead and the waiting time in advance.
Due to passenger safety considerations and current policy and regulatory requirements in China, Apollo self-driving taxis are equipped with a safety officer in the driver's seat to maximize passenger safety. The open road for automatic driving test in Changsha is based on Changsha Artificial Intelligence Technology City, Meixi Lake, Yanghu Lake, Dawang Mountain and Gaoxin District, with a total length of 135 kilometers and a demonstration area of 70 square kilometers.
In June 2019, Apollo received 45 manned test licenses issued by the Changsha Municipal Government. On August 2, the first batch of vehicles arrived in Changsha. In order to let the ordinary citizens experience the Apollo self-driving taxi as soon as possible, the team started the uninterrupted test for 7 hours a day for more than one month, so that the vehicle is fully familiar with the real street scene in Changsha. It is estimated that by the end of 2019, the Apollo self-driving taxi team will cover about 50 kilometers of trial roads in Changsha. In the first half of 2020, it plans to cover 135 kilometers of roads currently open in Changsha.
The prototype of the trial operation vehicles used by Baidu for Changsha are the Hongqi E-HS3 EV jointly developed with FAW Hongqi. The vehicle realizes the automatic driving hardware and software, the production capacity of the production line, the human-computer interaction in the vehicle, the safety redundancy guarantee and the all-round upgrade optimization of the cloud fleet management. It is the latest achievement of the Apollo automatic driving technology iteration. In addition, the Hongqi EV is also equipped with the Apollo customized version of the OBU (vehicle unit), which can be communicated with intelligent network-connected roadside equipment for L4-class vehicle roads.