This is actually a pickup truck modified by FOTON TULAND S.
FOTON Motor is a traditional Chinese vehicle maker with a business scope covering a full series of commercial vehicles including medium and heavy-duty trucks, light-duty trucks, vans, pickups and buses. FOTON Motor is also a subsidiary from BAIC Group.
This car is based on TUNLAND S, a diesel four-wheel drive AT pickup, the original model price is 188,800 RMB (28,000USD). After the modification, the price will be more than 500,000 RMB(74,000USD). In addition to the "bulletproof armor" of the whole body, the interior has also undergone a luxury upgrade.
Almost all front face has been redesigned except the FOTON logo. The front headlights are equipped with lenses, U-shaped design is quite similar to the Ford Raptor.
There are also 4 high-power searchlights installed on the front top to meet the needs of outdoor lighting.
The body is covered with bullet-proof steel plate, a strong angular feel from side. The window is equipped with double-layer bullet-proof glass. The data shows that it can prevent close shooting of guns.
The tire is 275/50 R20 from COOPER.
The rear part is quite different from the original model. TUNLAND S is a pickup truck. The rear of the car was a cargo compartment, it is changed to a passenger compartment, as same structure as a SUV model.
The taillights are replaced with LED light sources.
The central control in the car is basically the same as the prototype. The center control table is wrapped in leather material, it is more luxury than the prototype.
Compared with the front row, the rear seat is obviously much improved. This is the boss seat, the rear row is composed of two independent luxury seats with leg support, the whole vehicle load is 4 persons.
The rear seats are equipped with central armrests, integrated with LCD display and 220V, USB power supply interface for entertainment use.
A wooden board is added to the floor to help improve the sense of grade.
In terms of power, the prototype is equipped with Cummins 2.8T diesel engine, maximum power is 177hp, the Max. torque is 365N.m. The four-wheel drive is an electronically controlled time-sharing four-wheel drive system. The four-wheel drive system comes from BorgWarner. The gearbox is ZF 6AT transmission.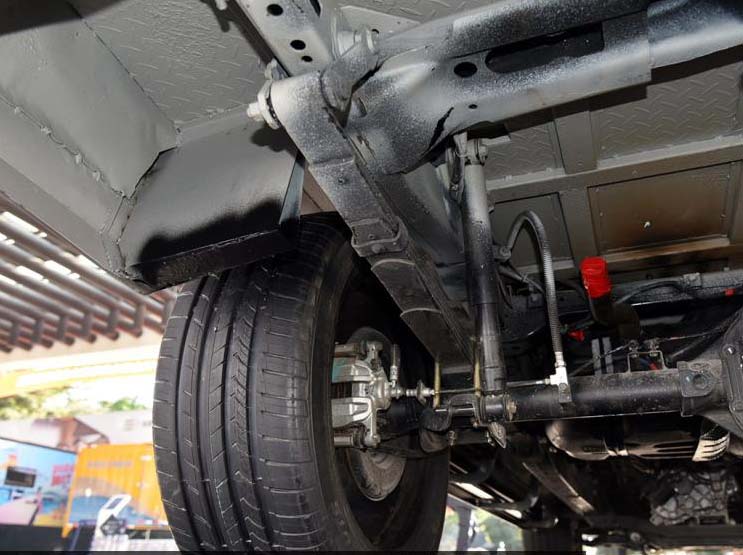 The front suspension structure is a double wishbone independent suspension, the rear suspension is leaf spring non-independent suspension.
It is understood that the car is priced at more than 500,000 RMB (USD74,000). The main customers are military, police and wealthy people with anti-ballistic needs, mainly export to Africa and Middle East.