We learned from ZXAUTO official that 2019 GrandTiger TUV pickup Off-road Edition was officially launched recently, with a guide price of 69,800-83,800 yuan (~US$10,137 – US$12,171) in China market. The new car has launched a total of 8 models powered by 1.5T gasoline engines, all of them meet CN-6b emission standards.
GrandTiger TUV is the new pickup truck type pioneered by ZXAUTO. TUV is T-SUV, "T" means truck (here specifically referred to as pickup), the T-SUV is a pickup-shaped SUV, which is externally shaped as a pickup, and is inherently the chassis and interior of a SUV, it has both the utility of the pickup and the comfort of the SUV.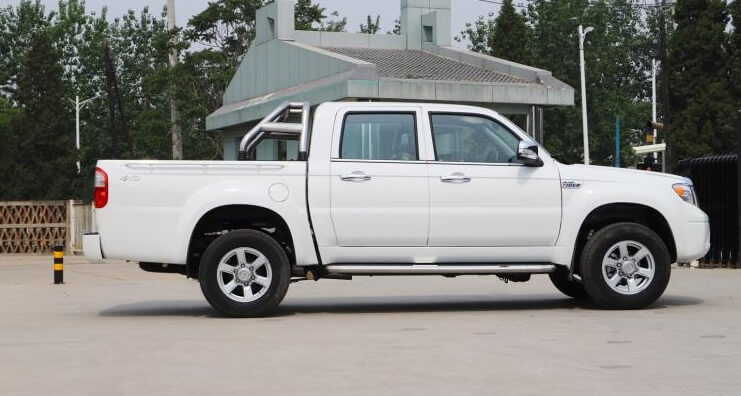 2019 GrandTiger Off-Road Edition is still a model year refresh version, it basically maintains the design style of the current selling models.
The front grille is fitted with a wide chrome trim, the front headlights are equipped with a lens. In addition to the wide wheel eyebrows, the car is equipped with side pedals and a thick cargo rack, with ground clearance of 205mm.
Body size of 2019 Grandtiger is 5319/1812/1775mm (double cabs), truck bed size is 1600/1505/480mm, the wheelbase is 3100mm; the body size of crew cabs model is 5614/1812/1775mm, and truck bed size is 1895/1505/480mm, wheelbase is 3395mm.
In terms of configuration, the new car is equipped with daytime running lights, reversing radar, reversing shadow, 7-inch touch screen, tire pressure monitoring, ABS+EBD system, main and auxiliary airbags, and full three-point seat belts. In terms of power, 2019 GrandTiger Off-Road version is powered by 1.5T engine produced by Mitsubishi Technology, with maximum power of 120kW(160hp) and peak torque of 230 Nm. The transmission system is matched with 5-speed manual transmission to meet CN-6b emission standard, the fuel consumption is 8.7L/100km.