Toyota China again launched a new sibling model, GAC recently announced the launch of the new Toyota Wildlander, it is also the exclusive model for Chinese market. The new car will offer 12 models of 2.0L naturally aspirated and 2.5L hybrid power option.  Price range will be from 171,800-241,800 yuan (~US$24,595 – US$34,616).
Also Read:
The Wildlander retains the body design of its prototype sister car, the Toyota RAV4 that is made by Toyota China's other partner, FAW. From the front, a new shape is utilized for the face; narrow, round LED headlights, spindle design reminiscent of Lexus is used for the split grille. Black mid-grille and fog light panels complete the rugged look.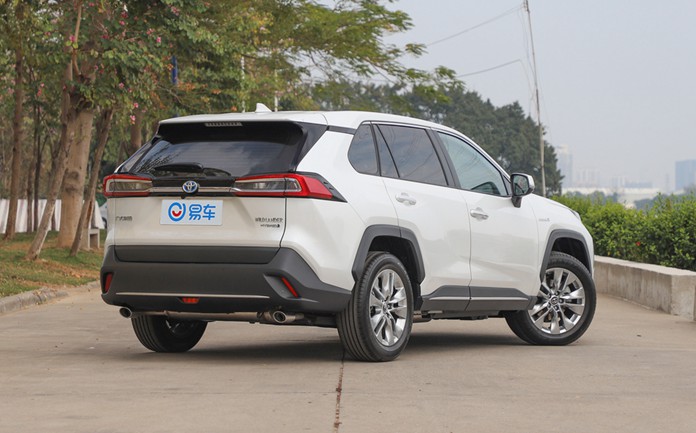 From the sides and the rear, the similarities with the RAV4 are very much visible save for minor tweaks: new style rims, enhanced rear light group shape and rear styling, chrome trim for the center.
Interior-wise, design mirrors that of the RAV4 as well with clean lines for the left and right symmetrical center console. A 10.1-inch floating center control screen dominates the center. A three-spoke steering wheel using TNGA architecture is used.
Size-wise, the new Toyota Wildlander shares basic dimensions with the RAV4 Rongfang at 4665mm long, 1855mm wide, and 1680mm high. Only the 2690mm wheelbase is different.
Configuration-wise, the Toyota Wildlander will have electric, adjustable leather seats; dual-zone automatic air conditioning, either a regular or panoramic sunroof (model-dependent),  LED headlights, electronic handbrake, 18-inch wheels, 10.1-inch navigation system, Fengyun Yuexiang Telematics system, among other appointments. 
For added safety, the mid-range model will carry seven airbags, 8-probe parking radar, back-up image and the Toyota TSS Smart Travel Technology Suite as standard features.
Wildlander will offer two power combinations: 2.0L fuel version and a 2.5L dual engine version.
The first will be equipped with a 2.0L naturally aspirated engine capable of 171 horsepower and 209 N · m peak torque.  Transmission system is paired with a CVT gearbox.  Four-wheel drive models will be available.
The dual engine version will come with a 2.5-liter naturally aspirated engine capable of 178 horsepower, with a comprehensive maximum power of 222 horsepower. An E-Four 4-wheel drive model will be available.
The much-awaited Toyota Wildlander is based on the GA-K platform under the TNGA architecture, sharing the same platform with the Camry and Lexus ES. The name was officially announced last November 2019 and debuted in the Guangzhou Auto Show.