At the Chengdu Auto Show in 2019, GAC-Toyota brought its second pure electric vehicle, the iA5, a total of three variants were introduced, with a subsidy price of 169,800-192,800 yuan (~US$23,825 – US$27,053). The new model iA5 is built with the same electric platform as GAC New Energy Aion S, GAC-Toyota iA5 new car is developed by GAC Research Institute according to the requirement of GAC Toyota, it will be manufactured by GAC Toyota Plant and sold by GAC Toyota.
This is GAC Toyota iA5

This is GAC AION S
In terms of price, compared with GAC Aion S, which was launched in April this year, GAC Toyota iA5 has a higher starting price after subsidies, and only provides a 510km range version, while the price of top model of iA5 is lower than GAC Aion S.
In terms of appearance, the GAC Toyota iA5 is very similar to the GAC Aion S. It only adjusts the details of the front face and other details, and, the new car even uses GAC's badge, this is not a real Toyota!
In terms of body size, GAC Toyota iA5 has a length and height of 4792/1880/1530mm and a wheelbase of 2750mm. The change in the length of the car is mainly due to the change in the shape of the front and rear bumpers, and the actual vehicle structure remain the same as Aion S.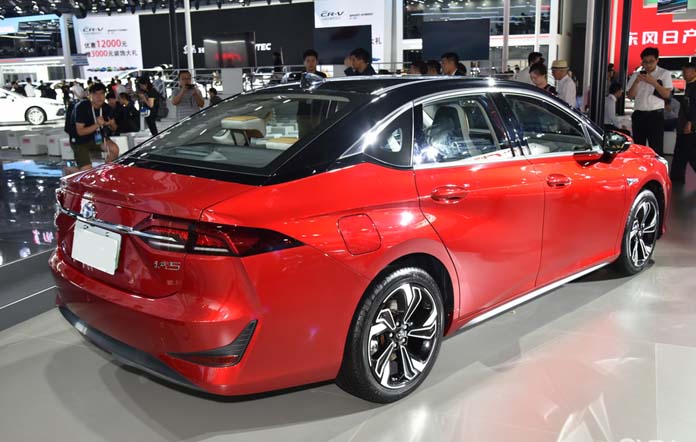 The DC fast charging interface and the AC slow charging interface of the GAC Toyota iA5 are located at the left and right sides of the vehicle. In the DC fast charging mode, it takes only 34 minutes charging from 30% to 80%, and the AC charging needs 9.5 hours.
In terms of the rear end, the GAC Toyota iA5 does not use the popular bar-style taillights. Instead, it uses a thick chrome trim to connect the left and right taillights. In addition, although it is hooked GAC's badge, the word "GAC Toyota" under the left taillight emphasizes that this is a Toyota.
This is interior of GAC-Toyota iA5

This is interior of GAC AION S
The interior design of GAC Toyota iA5 basically continues the style of Aion S. It only adjusts the details, such as shift lever shape, workmanship and materials also maintain a high level of luxury. The configuration is still good, the dual 12.3-inch screen covers multimedia applications and dashboards.
The GAC Toyota iA5 uses NCM 811 ternary lithium battery from CATL, with a battery pack capacity of 58.8kWh and energy density of 170Wh/kg. NEDC's comprehensive working range is 510km. The power part uses a permanent magnet synchronous motor from Nidec, with a maximum power of 135 kW (181hp) and peak torque of 300 Nm, this is also the same as Aion S.