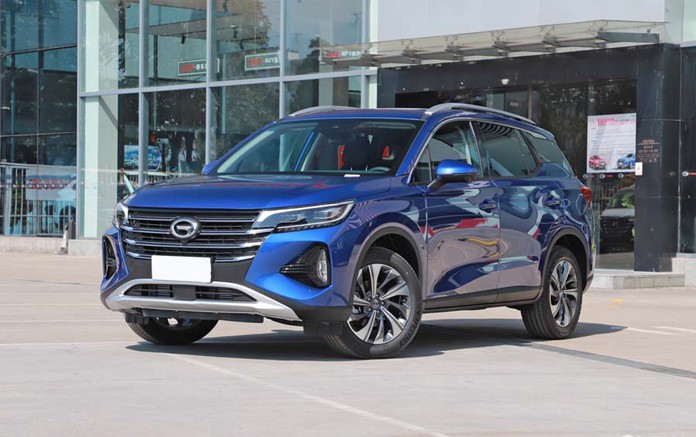 On November 15th, all-new GAC Trumpchi GS4 officially listed in Chinese market, this is the 2nd-gen GS4, the new car launched a total of 9 models, with a price range of 89,800-151,800 yuan (~US$12,814 – US$21,662). Based on the modular architecture of the new GPMA platform, Trumpchi GS4 has undergone a comprehensive innovation in both appearance and interior, and its configuration has also increased accordingly.
In terms of appearance, all-new Trumpchi GS4 features the GAC's latest design language which is similar to the new GS5. The front grille is designed to pay tribute to the previous generation, but in terms of details compared to the previous model, such as the front grille area is larger than the previous generation GS4. In addition, the new headlights of the all new GS4 use dual-module LED wick, officially known as the "double-star cruise full LED headlights".
On the side of the body, all-new Trumpchi GS4 is designed with a segmented waistline that is officially named "Following the Wind" and has a flowing feel on the side. The uppermost one extends from the headlights to the taillights, which makes the body look more slender. In the rear, the new taillights are connected by a chrome trim, which further widens the lateral visual effect. At the same time, it also canceled the original "Trumpchi" English letter logo, so that everyone's visual center focused on the brand LOGO, and added a concave design in the license plate position to create a light and shadow effect. In terms of body size, the length, width and height of the new car are 4545/1856/1700mm respectively, which is 20mm, 4mm and 15mm respectively compared with the current model. The wheelbase is 2680mm and 40mm.
In terms of interior, all-new Trumpchi GS4 features a dual 12.3-inch screen design. It has to be said that this dual-screen design has a lot of improvement in the sense of technology and luxury of the interior, the design obviously has a positive effect on consumers. of. At the same time, it uses the official double "X" theme instrument panel design, the highlight chrome trim in the center console area is X-shaped in the main driving and co-pilot area, with hidden mechanical air conditioning air outlet, large area soft Covering interior parts, etc., further enhances the design of the interior texture.
In terms of power, all-new Trumpchi GS4 is powered by 1.5TGDI engine with maximum power of 169 ps and peak torque of 265 Nm, which meets the national six emission standards. In terms of transmission, the new car will be matched with 6-speed manual transmission and the third-generation 6-speed automatic transmission from Aisin.