At this year's Frankfurt Motor Show, China FAW Hongqi brand launched a new pure electric SUV concept car, which is positioned as a large SUV, the internal code of the future production model or will be E115. This sci-fi sci-fi pure electric SUV concept car will also indicate the design trend of Hongqi pure electric SUV in the future.
This pure electric large SUV concept car released by FAW Hongqi features the latest family-style design language. The front face has a strong visual impact, the fake air intake grille is very rich in design elements and is outlined by LED light source, the central red flag badge is designed in a minimalist style.
Both sides of front bumper create an exaggerated style through the LED light source, the rear view mirrors on both sides are extremely small, it is suspected that the camera is used to replace the traditional large mirror, which is very scientific. It seems that the design of FAW Hongqi has become more avant-garde and radical after the former Rolls-Royce design director Giles Taylor joined, giving a refreshing feeling.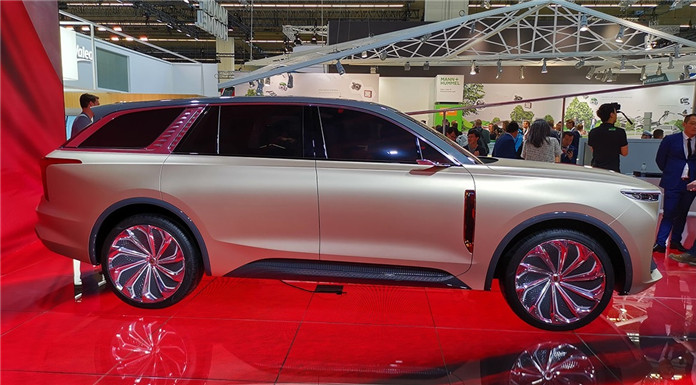 On the side of the car, the new car uses the contour line design of a tough SUV, the chrome-plated decoration of the C-pillar and the D-pillar is very innovative. At the end, the new LED bar-style taillights echoes with the front of the car.
It is called "1st Full-size Flagship Smart Blade Energy SUV"
In terms of driving performance, this pure electric large SUV concept car adopts four-wheel drive mode and has seven driving modes. The 0-100km/h acceleration time is less than 4 seconds, the maximum cruising range of the vehicle will be up to 372miles(600 km). In addition, the concept car features an air suspension structure and L4-class autopilot function.