Is Bestune T77 worth buying? Obviously, you may know after our teardown review.
Front crash beam: same as Toyota
It is really hard to remove the front and rear bumpers. Not only are there many components, but the design is extremely unreasonable, it is obvious that the design of this car is not mature.
The front crash beam is a double-skin rolled forming steel, it is a commonly used form of Toyota car with a thickness of 1.84 mm, it is thick in this type of crash beam. The width of the crash beam accounts for 62.5% of the front end, which is relatively narrow and belongs to the earlier design.
Bumper energy absorbers are not available in this car, it is irresponsible to pedestrians and will also cause the vehicle to lose part of buffer, even a slight collision might result a big loss.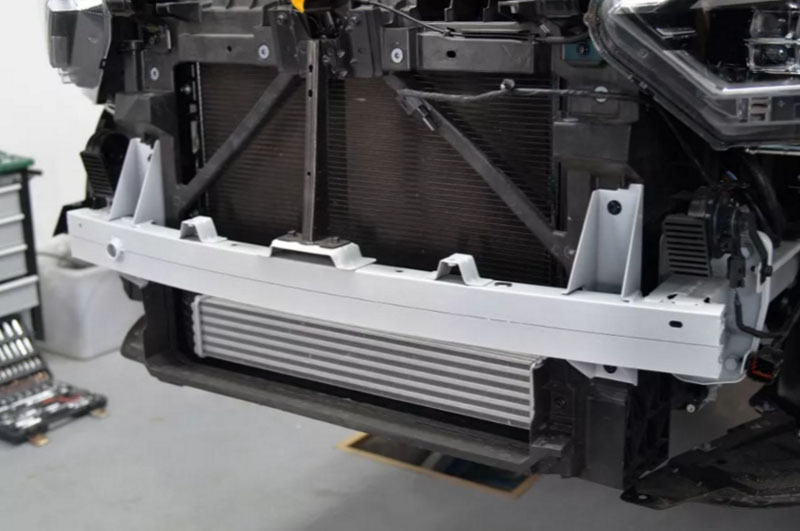 In addition, the water tank frame is made of all-plastic material, the plastic water tank frame and front crash beam are connected by several metal frames, the crash beam will collapse if a low-speed collision occurs, then the water tank frame is easily broken, causing high maintenance costs.
Although the front impact beam has a crash box (energy absorbing box), the crash box is welded by two stamped steel plates, which is much worse than the integrated crash box we usually see.
Rear crash beam: it's not much helpful
The rear crash beam is a single-layer stamped steel plate with a thickness of 1.41 mm, width of rear crash beam accounts for 65.91% of car body
The rear crash box is much better than the front one, not only it has holes, but also it has crushing guide groove.
However, the rear crash beam does not protrude from the tailgate, so the rear crash beam will lose its proper protection function in low-speed collision.
Summary: Immature design
Bestune T77's crash beam is straight and narrow, the materials are still sufficient, basically imitating the Toyota model. However, we also saw a lot of immature places in the design, the width of the crash beam is insufficient, resulting in the loss of protection for the suspension, and it is more disadvantageous in the small overlap crash. The welded crash box, the absence of bumper absorber foam, and inability of the rear crash beam to protect the tailgate are the performance of immature design.
We feel like Bestune's engineers are just to complete a certain task, it just did what it should be done, but nothing more to do, and there is no geek spirit of excellence. The idea of safety protection is also out-of-date, lacking the latest safety concept, it's like make a cart behind closed doors.
Please pay attention to our follow-up article about the review of chassis structure and interior material quality.