Chinese sources reported that "Byton came back to life. Foxconn will inject about 200 million U.S. dollars to lead the future development of Byton Auto." For this capital injection, Foxconn also put forward some conditions, including mass production issues. It is reported that "Byton will advance at full speed and plans to achieve mass production of its first model at the end of this year and the slowest next year in the first quarter." After the investment is completed, Byton shareholders will include Foxconn, FAW, and the original Byton founding team.
Prior to this, Byton had been suspended for nearly half a year. As early as June 29, 2020, on Byton Auto's board of directors, Dai Lei, then CEO of Byton, announced the company's decision to suspend business operations in Mainland China from July 1st and only retain a small number of positions to maintain the company's basic functions operation. According to media reports, during the suspension of business operations in mainland China, fewer than 100 people will remain in China, of which production and R&D personnel account for 50%. In addition, Byton's offices in the United States and Germany will initiate bankruptcy procedures, and only more than 10 jobs will remain in the above two regions.
In order to be able to return to the track, on September 9, 2020, Byton established a new company, Nanjing Shengteng Automobile Technology Co., Ltd., whose registered address is now Byton Nanjing's office-Nanjing Economic and Technological Development Zone Red Building D4 of Maple Science Park, its shareholders are also FAW Group and Nanjing Economic Development Zone Science and Technology Fund.
Shortly after the establishment of the new company, Daniel Kirchert, the co-founder and CEO of Byton Auto, was exploded and resigned, and his future is still unclear. Subsequently, Byton's board of directors quickly appointed Ding Qingfen (co-founder and chief affairs officer of Byton) as co-CEO in July 2020.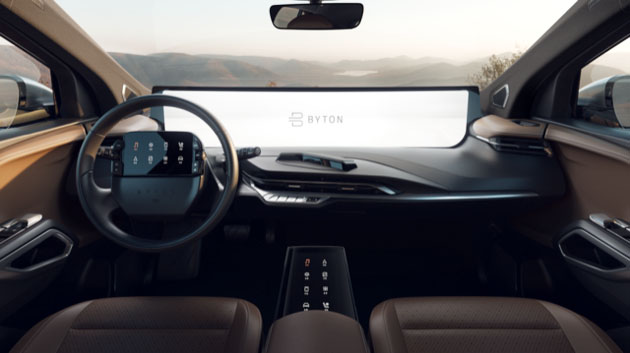 In fact, until December 31, 2020, all employees of Byton continued to suspend work and production. The internal e-mail of the "Notice of Production Suspension in China" that was exposed by the media stated: "We are very sorry to inform you that after 6 months' suspension of production, all companies in China (excluding Hong Kong) (hereinafter collectively referred to as the "Company") still do not have the conditions to resume work and production. After research and decision, starting from January 1, 2021, the suspension period will be extended 6 months, until June 30, 2021." According to the report, the main reason for the suspension of production and work suspension is still the lack of financing. Now, it is rumored that Foxconn will inject capital into Byton, which may bring new vitality to Byton.