Power: performance of engine is steady, potential is very strong in high-speed
In the aspect of chassis, MG6's front suspension is McPherson structure, the former deputy frame use forging process, the rear one is Z-type multi-link suspension, damping and spring barrel is separated, subframe is used for it, and with the help of front and rear stabilizer bar, MG6 is more tough than Roewe 550, emphasis in sport.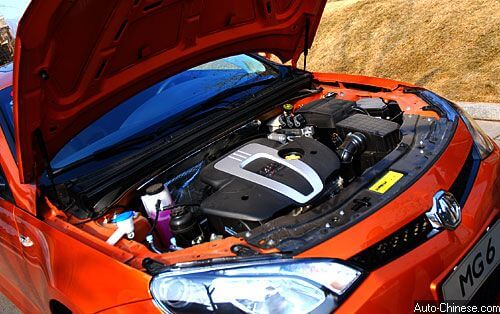 In daily life driving, it is very similar with European cars that have unique sense of clarity and toughness, especially in the bumpy road and speed bump, suspension's response is very rapid, although vibration can be effective filtered, we can still clearly feel what kind of road have just passed through, so MG6 doesn't pursuit the particular style of comfort, but its characteristic taste is sport.
Its road feeling feedback of steering is also European style, MG6 is almost identical with the Roewe 550's performance. 2.7 circles turn is just right, the vehicle's feedback is indeed very sensitive in our daily driving, commendable.
In the aspect of noise reduction effect, the performance is particular characteristic, if it is in daily driving in urban traffic, the noise reduction performance is general, but if it is on the highway, whether tire noise or engine noise is performed relatively quiet, it may create a good sense of long-distance travel enjoyable.
In the aspect of power, the 1.8T engine doesn't make any difference with Roewe 550's turbocharger Kavachi engine. Maximum power of 160 hp and 215 Nm of maximum torque is not the most excellent work in the same level, but there is no problem to push MG6's body.
You can more easily tap its power by matching with its five-speed manual transmission, because most of the engine power need to turn around in 3000rpm can be called out. The performance of such power also reflects in its acceleration test, 9 seconds to 100 km of acceleration score has done well in the same level, but the acceleration feeling is also divided into two segments, so you need to have more patience and understanding.
The engine has high requirement in rotational speed, it will not turn off the oil until 6750rpm, power peak also appears in 4000, usually we are almost less than such a high speed.
The average braking distance of 41.4 meters is perfect, the whole process is with good braking effect, braking stability is high. In daily driving, there is not powerful braking effect while just hit the brake pedal, the feedback of brake pedal is moderate, has good incrementality.