At the 2022 Chengdu Auto Show, the Green Demon version of the JAC Hunter pickup was officially unveiled. The new car has been pre-sold before, with a pre-sale price range of 163,800-191,800 yuan. As a user-created model, the new car is mainly upgraded in appearance and off-road kits.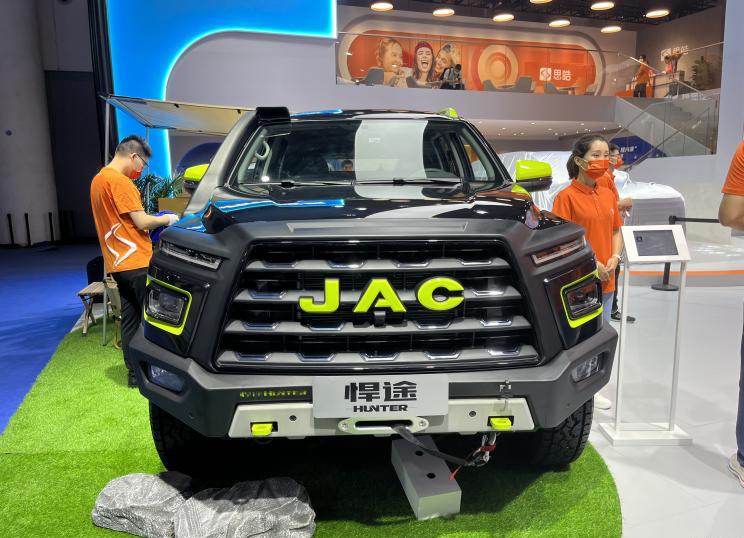 Specifically, the Hunter Green Demon edition is upgraded based on the Bobcat version. Its front and rear competitive bars, wading hoses, chassis guards and 9500-pound electric winch are all consistent with the Bobcat version. In terms of appearance, the new car's headlights, roof racks, rims, door handles and rear are decorated with fluorescent green, which is more eye-catching with the shape of the front mouth-shaped air intake grille.
In addition, on the basis of the original minimum ground clearance of 230mm, the new pickup again uses the Black Mamba 2-inch riser kit for heightening, and has nine gears of soft and hard damping adjustment. In addition, the new pickup is also equipped with a Thai version of the stabilizer bar/stabilizer bar and a thicker tube diameter, which improves its off-road performance again. In terms of the rear of the car, the new car has been functionally expanded and upgraded, equipped with MK multi-functional gantry components, MK monster trailer hook, BEST WYLL flat pull cover, etc. The roof has also added 2 large oil drums with a volume of up to 30 liters, which can add about 400 kilometers of battery life to the vehicle.
The Hunter Green Demon edition adopts black and brown interior (optional black rice interior), with 7-inch LCD instrument, 10.4-inch high-definition intelligent touch vertical screen, J-LINK interconnection, intelligent voice interaction system, mobile phone wireless charging and other configurations bring users the driving experience of passenger vehicles.
In terms of power, the new pickup will provide a 2.0T diesel engine and a 2.4T gasoline engine, of which the 2.0T diesel engine has a maximum power of 150 horsepower and a maximum torque of 360 Nm, and meets the National VI emission standards; the 2.4T gasoline engine has a maximum power of 211 horsepower, the max. torque is 320 Nm. In terms of transmission system, the new car is matched with a 6-speed manual transmission and four-wheel drive system.