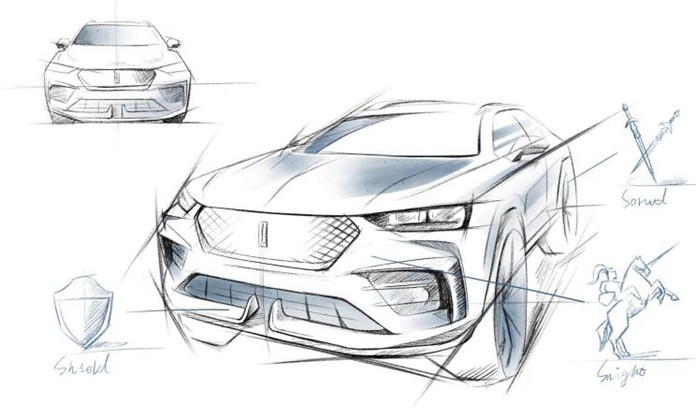 Recently, Great Wall Motors' premium brand, WEY debuted a variant of its VV7 GT, the VV7 GT brabus, the new model is a joint effort between GWM WEY and Brabus GmbH of Germany and will be unveiled at the end of May at the Frankfurt Motor Show.
The Wey brand efforts at quality are evident in the new car. The leaked images show that the WEY VV7 GT brabus will have the German custom knight design with Brabus imprints. This new model also differs from the regular WEY VV7 GT when it comes to the front face, with the new one adopting a knight armor look and a sharp visor light design. The new model seems more sporty and radiates an uninhibited persona.
The rear of the WEY VV7 GT Brabus has also been redesigned, and now features continuous obsidian crystal tail light that has the tendency to create a wider visual effect and projects a unique luxurious temperament and an exceptional sense of well-being. On the rear end is a three-dimensional polygonal descent which signals dominance.
The car features a special carbon fiber spoiler, which apart from its visual appeal also serves a practical purpose of generating a strong downforce to keep the car centered and stable when accelerating at high speeds. In a general sense, the new WEY VV7 GT Brabus offers the added luxury and atmosphere of a family coupe.
It's also worth mentioning that the new car is equipped with high-performance 21-inch wheels in blackened aluminum alloy, and strong 265 width wide tires from the German horse brand, the tires offer greater traction common in sports cars.
Brabus is popularly known as a Mercedes Benz repurposed factory specializing in aftermarket performance turning of three major brands namely: Mercedes-Benz, Smart, and Maybach models. WEY VV7 GT Brabus is intended as a luxury SUV and given the sporty characteristics we've seen in leaked sketches, it seems they might have just achieved that goal.