On August 7, 2020, Geely's sub-brand, Geometry Auto's second model, Geometry C (Jihe C), was officially launched. The new car launched two range versions (400km/550km), a total of 5 models, the price is 129,800 to 182,800 yuan (~US$18,626 – US$26,231) after comprehensive subsidies.
In terms of appearance, Geometry C continues to adopt the design concept officially called "multi-dimensional flowing life form", the front face design is simple and smart. Officially, the design of the Geometry C headlight is called the "light edge blade", with 80 built-in LED light sources, highlighting the sense of technology. At the same time, the front part of the new car is equipped with an active air intake grille, which can adjust the opening and closing angle according to the speed of the vehicle.
On the side of the body, the sunken roof is matched with the streamlined waistline, which not only increases the beauty but also reduces the wind resistance. Officially, the wind resistance coefficient of Geometry C is only 0.273Cd. In addition, the new car also uses a floating roof, hidden door handles and other designs to enhance the youthful atmosphere of the new car.
At the rear of the car, Geometry C is also equipped with the popular bar-type taillights. The interior contains 216 LED light sources. The transparent design of the taillight group is more in line with its new energy vehicle identity. In terms of body size, the length, width and height of the new car are 4432/1833/1560mm respectively, and the wheelbase is 2700mm.
The Geometry C minimalist design style interior uses more irregular shapes as the design language, reflecting the sense of science and technology that an electric car should have. The overall style is similar to the brand's first model Geometry A. In addition, the knob-like gear-lever and the honeycomb-shaped touch button area also appear on Geometry C, which is officially called the E-Touch central super-sensing touch area, adding a sense of technology.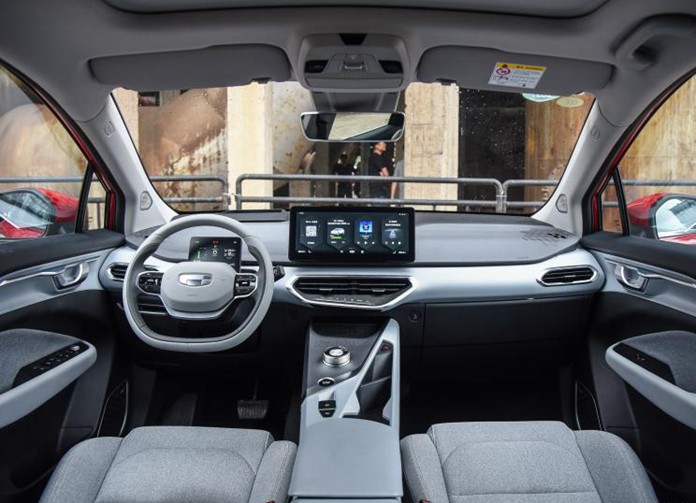 In terms of configuration, Geometry C is equipped with the leading GKUI intelligent ecosystem and car-level CN95 protection system. In the luxurious configuration, Geometry C is equipped with a unique HUD projection digital head-up display system of the same level, a 7-inch projection display, a 12.3-inch large touch screen and a mini instrument three-screen interconnection, which integrates important information such as speed, navigation, indicator lights, etc. Projected to the driver's perspective to ensure driving safety.
In terms of power, the new car will is powered by a permanent magnet synchronous motor from Nidec, with a maximum power of 204 horsepower and a maximum torque of 310 N·m. It is equipped with ITCS3.0 battery intelligent temperature control system and other technologies, it is offered in two range version 400 and 550km.