● Riich M1's interior design and workmanship is satisfactory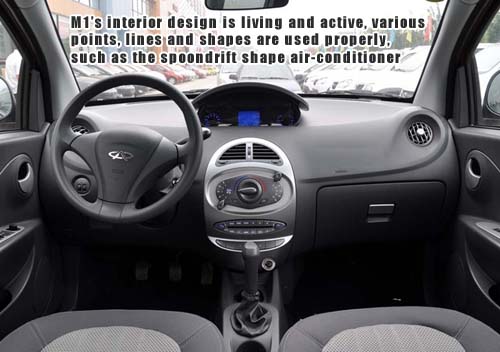 Riich M1's interior design continues using the cartoon style as appearance, there is almost no straight line, there are all kinds of arcs between the basic shapes. The control panel is oval, the texture and workmanship of silver panel materials are pretty good, the table materials are also very thick in visual and tactile, it is not loose. The outlet of air-conditioner design on both sides are very romantic very innovative, as the waves rolled.
We all like the design of air conditioner panel, it is also very visual and novel, the choice of functions are at a glance, the operation is very convenient, it can be swapped back and forth by using the lever which is like small ears on both sides, both cute and practical.
There is no weaknesses except the steering wheel is oversized. Three-spoke model, the curves on both sides feel pretty streamlined, work feels normal. Riich M1's instruments are in the centre, in fact, many models now are used central instruments, this is understandable.
[The light bar indicates the speed variations when vehicle's moving]
[There is a USB interface around the glove box, and with a extension cord and adapter, very convenience to use]
From the view of function, functionality of Riich M1's dashboard is good. The information of central LED screen for a micro-car is very powerful except the tachometer, fuel gauge and water temperature on both sides are relatively small. the speed table is shown at the lower right corner in large font (digital format), it's easy to read, others can also display the mileage, cruising distance, instantaneous fuel consumption and maintenance of kilometers away from the next maintenance and so on.
Riich M1's door panels are also authentic, a large area of fabric are used on handles, workmanship is very fine, and materials will not feel it is very cheap. Door seal has double layers, that is, doors and door frames are packet by entire body seal ring, there is no any jerry-building.
[amzn_multi_product_inline keyword='mount' count='4′ page=" sort=" category='Automotive']