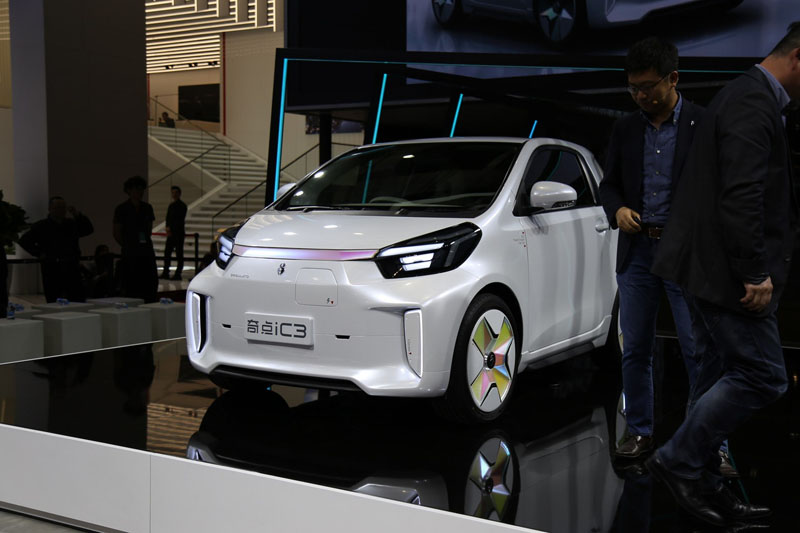 ZHICHE Auto released electric minivan SINGULATO iC3 at 2019 Shanghai auto show, the new car is mainly designed for urban travel, NEDC comprehensive cruising range of 300km, the iC3 unveiled on shanghai show is still a concept car, it plans to start production in early 2021.
SINGULATO iC3 concept car adopts a small and cute design style, the front of the car is round and full, as a pure electric vehicle, the front face uses grille-less design. The front headlight group has an LED light strip inside, and the fog light below has grooved design.
SINGULATO iC3 concept car is short and sleek, it is equipped with a full-featured two-color rim, which looks very delicate.
Body size: 3166mm/1680mm/1480mm, and the wheelbase is 2000mm. At present, the official did not disclose the power information, it only announced the 300km NEDC working range.
From the introduction of SINGULATO iC3 conference, official disclosure that iC3 is actually based on Toyota's eQ (iQ EV, or Scion iQ EV in North America market). You can see that the steering wheel of SINGULATO iC3 concept is still on the right-hand side as the Toyota iQ EV has not listed in China market, so SINGULATO iC3 can be said the facelift Toyota iQ EV. According to the official interpretation, iC3 was authorized by Toyota.
About SINGULATO
SINGULATO is the smart electric car brand under ZHICHEAUTO Technology Co., Ltd, the headquarters of SINGULATO is located in Beijing, China. It is an innovative Internet company founded in December 2014. The company's business scope covers new energy vehicles, smart car systems, car networking services and solutions based on big data and cloud computing, and investment in innovative technology products. Since the establishment of SINGULATO, it has completed 6 rounds of financing, and the accumulated financing amount exceeds 7 billion RMB.
Shen Haijun, the founder of SINGULATO, has been a successful entrepreneur before the establishment of SINGULATO. On the resume, there are also the vice president of Kingsoft Group, the president of Kingsoft Security and the vice president of Qihoo 360. He is one of the few newcomers to the so-called EV maker new force, who worked long hours around the first batch of Internet tycoons. Out of recognition and optimism about smart and new energy vehicles, Shen Haijun turned from an angel investor to a startup boss, the owner of SINGULATO.
On March 9th, 2016, ZHICHE AUTO held a press conference and released the brand of SINGULATO;
SINGULATO 's first intelligent pure electric production model – SINGULATO iS6 preview version debuted on April 13, 2017, with a price range of 200,000 to 300,000 yuan
On January 15th, 2018, SINGULATO U.S.A Research & Innovation Center (SRIC) was officially established. Singular Auto has completed the construction of the R&D system of "two countries and four places". That is to set up the " SINGULATO Automotive Intelligent System R&D Center" in Beijing, the " SINGULATO Vehicle Research Institute" in Shanghai, the " SINGULATO Automobile Intelligent New Energy Automobile Industrial Park" in Tongling, Anhui, China, and the establishment of SRIC in Silicon Valley, USA.