On March 29, BYD officially announced the launch of the lithium iron phosphate "blade battery", which is ahead of the same type of battery in terms of safety and longevity. At present, the "blade battery" has been offline at Chongqing Fudi Battery Factory. At the press conference, Wang Chuanfu, Chairman and President of BYD Group, also stated that the "blade battery" will be the first to be installed on BYD HAN pure electric version. The new car is expected to be put into production and market in June this year.
BYD started with batteries and currently has 100% independent research and development, design and production capabilities in the battery field. It involves the complete battery industry chain from raw material development, design manufacturing, application to recycling. According to BYD's official statistics, BYD is also the world's largest manufacturer of lithium iron phosphate batteries. BYD's batteries have delivered more than 750,000 new energy vehicles and more than 1GWh of energy storage batteries worldwide, achieving zero safety accidents in the field of power batteries.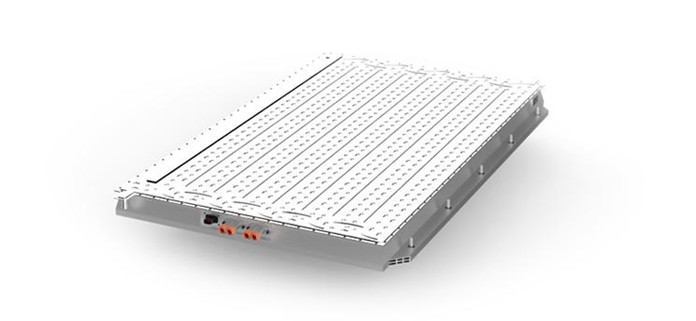 The "blade battery" introduced this time is a lithium iron phosphate battery, which is named by its longer shape and thinner thickness. The cell uses a laminated structure + ceramic coating technology, when an internal short-circuit occurs in the cell, no violent reaction generally occurs. In extreme cases, there is only smoke, and the high-temperature resistance of the lithium iron phosphate material itself, bringing high security to the "blade battery". In addition, the "blade battery" uses an in-line arrangement structure + high-temperature insulation ceramic protection + smoke isolation channel in the battery pack to create a battery that is difficult to catch fire. The upper and lower cells also adopt a honeycomb structure protective plate to improve the rigidity of the entire battery pack.
Through structural innovation, BYD blade batteries can skip "modules" when they are grouped, greatly improving the volume utilization rate, and finally achieving the design goal of installing more batteries in the same space. Compared with traditional modular battery packs, the volume utilization of "blade batteries" has increased by more than 50%, and the range has reached the same level as high-energy ternary lithium batteries. In terms of life, BYD "blade batteries" can be charged and discharged more than 3,000 times, driving mileage up to 1.2 million kilometers.
According to Mr. Wang Chuanfu, blade batteries are only used in BYD HAN pure electric vehicle, no other models are planned. According to the information submitted by the Ministry of Industry and Information Technology, the energy density of BYD HAN EV battery system equipped with blade batteries has reached 140Wh / kg, the cruising range has reached 605km, and the 0-100km/h acceleration has been achieved in 3.9s. The new car is expected to be put into production in Shenzhen this June.