On December 1, LIXIANG Auto announced the delivery data for November 2021. LIXIANG Auto delivered 13,485 LIXIANG ONEs in November, an increase of 190.2% from October 2020. In the first eleven months of 2021, the total delivery volume reached 76,404. Since the delivery, the current cumulative delivery volume of LIXIANG ONE has reached 110001 vehicles.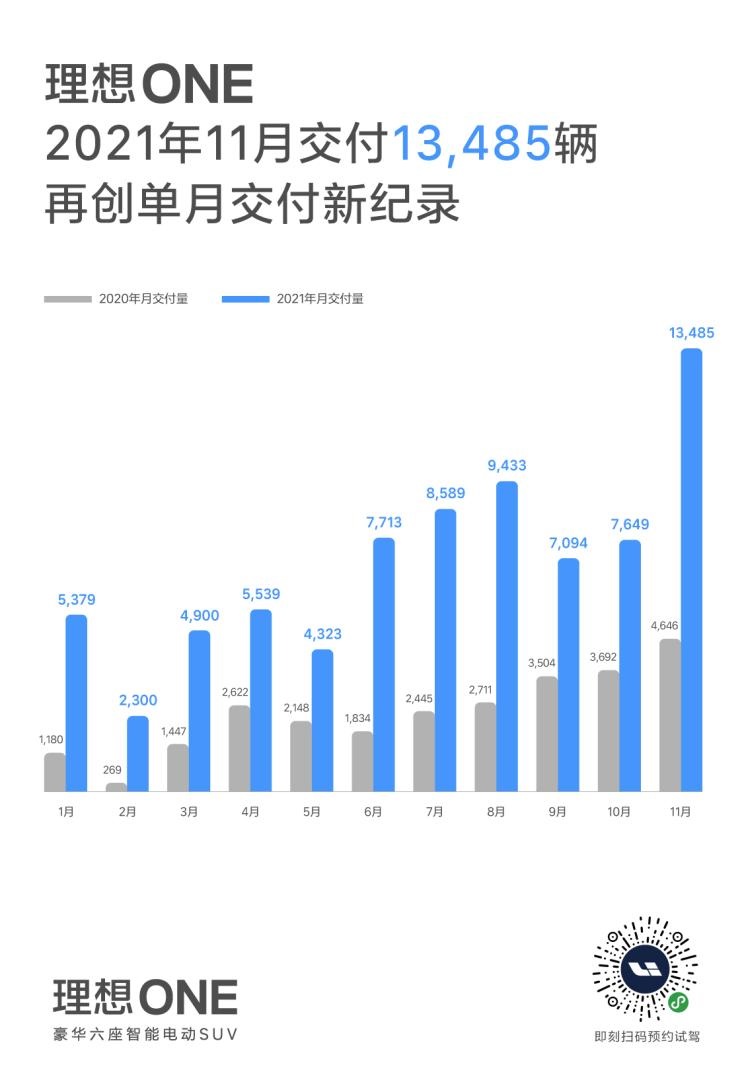 "LIXIANG ONE set a new record of delivering 13,000 units in a single month in November. This is also the first time that a Chinese brand luxury model with a starting price of over 300,000 has achieved a single monthly delivery exceeding 10,000, becoming a Chinese luxury mid-to-large SUV and family user's first choice of products. To achieve such results, we are very grateful to users for their recognition of the power of LIXIANG ONE. LIXIANG Auto will continue to create products and services that satisfy users and make itself proud." said Shen Yanan, co-founder and president of LIXIANG Auto .
As of November 30, LIXIANG Auto had 174 retail centers nationwide, covering 93 cities; 236 after-sales repair centers and authorized sheet spray centers, covering 171 cities.
In mid-October, LIXIANG Auto Beijing Green Smart Factory officially started construction in Shunyi District, Beijing, and it will be used to produce new pure electric products in the future. It is reported that the plant is scheduled to be put into operation by the end of 2023, and the first phase will achieve an annual production capacity of 100,000 pure electric vehicles. According to the plan, LIXIANG Auto is developing two high-voltage pure electric vehicle platforms-Whale and Shark, and plans to launch at least two high-voltage pure electric vehicles every year starting from 2023. At that time, the brand-new models will help LIXIANG's sales to reach a new high.