SWM G05 Introduction
On June 5th, SWM Motors debuted its latest all new SWM G05 SUV model at 2019 Chongqing Auto Show. SWM G05 is the first 7-seat medium-sized SUV built by SWM Motors' G platform. It is powered by 2.0L/1.5T and is expected to be listed in Sep. 2019.
SWM G05 has a fresh design, the huge chrome-plated medium mesh is connected to the headlights, the fog lamp area is also decorated with thick chrome trim strips, which is very recognizable. The body lines are tough and full of strength.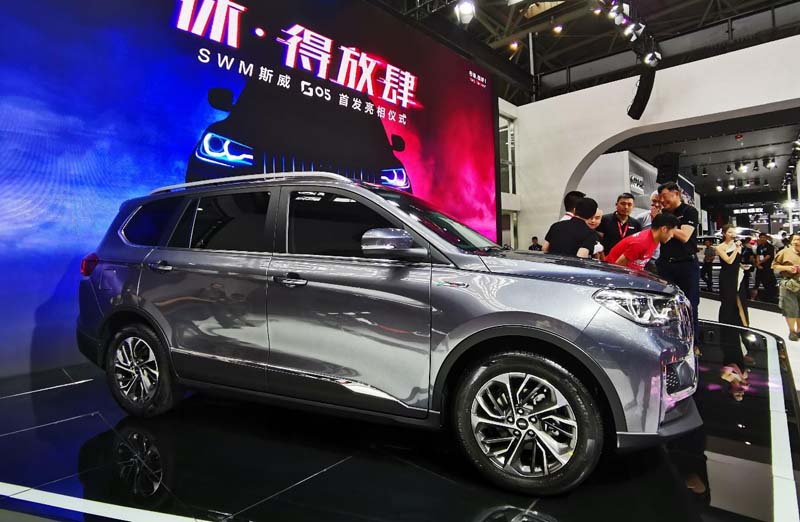 In terms of body size, SWM G05 has a length, width and height of 4710/18,851,770 mm, the rear seat has maximum volume of 1920 liters. The taillights of SWM G05 feature a popular light bar design with a decorative diffuser opening underneath.
In configuration, SWM G05 will be equipped with E-go 3.0 car networking system, including intelligent voice control system, fantasy star UI interface, LCD instrument display system. In the safety configuration, the ADAS driving assistance system, AUTOHOLD, side air curtain, high-definition 360 panoramic image, etc. will appear on SWM G05.
In terms of power, the new car is expected to be powered by 1.5T and 2.0L engines, of which the 1.5T engine has maximum power of 115kW (154hp) and peak torque of 220Nm.
About SWM MOTORS
SWM in Chinese say "斯威汽车", SWM was once a motorcycle brand in Italy, in 2014, Chinese private enterprise SHINERAY(Chinese say "Xinyuan") Holdings went to Italy to acquire the SWM brand and established a car design center in Milan, Italy. Not to mention the SWM car, even if it is SWM's off-road motorcycle, few people have seen it in China. In the case of such a so-called European famous brand, there is no mass base in China. Anyway, Although SWM has European Italian origin, SWM has become a Chinese auto brand.
In 2017, SWM Motors hired former BMW Quality Director Franz Görman as the chief quality consultant for SWM Motors to enhance the quality system. At the end of 2017, SWM Motors introduced the Ex chief designer of Toyota Europe and the chief designer of Audi, Kovos Sotirios, as the design director of SWM European Design Center, responsible for the related work of modeling design.