Recently, we obtained the interior design drawing of Hycan's first electric SUV, a joint venture EV brand of GAC & NIO. The new car will be mass-produced in GAC Intelligent New Energy Automobile Industrial Park. It will be officially released at the end of 2019, to start delivery in the first half of 2020.
The interior design of the new car is quite simple, and the silver/ green two-tone strip runs through the center console area. The triple screen with asymmetric design is quite eye-catching. From the picture, the dashboard of the new car + the central control panel + air conditioning control area are all designed with LCD screen, however, the physical knob remains at the central armrest box. The new car's multi-function steering wheel features a double-spoke design with a silver-black two-tone layout. The seat shape of the new car is quite sporty.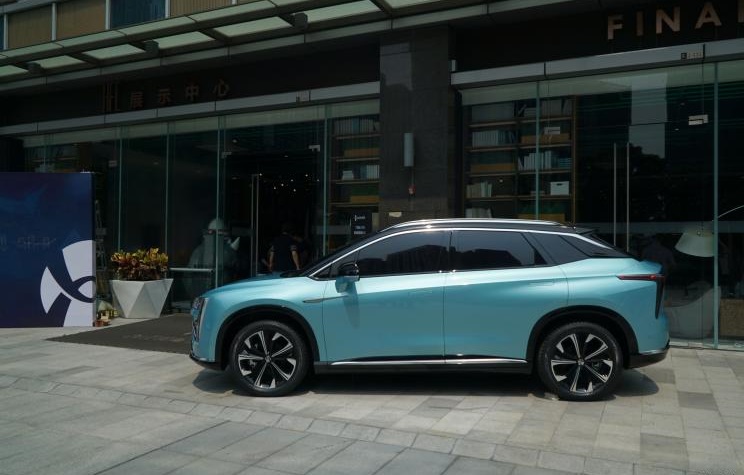 The first SUV concept car of Hycan has been officially released earlier this year. This car adopts the unique design of the brand, which is different from the existing models of NIO and GAC. The individual headlights are impressive, and the LED daytime driving seals on both sides incorporate a digital "7" design element.
On the side, the car uses a floating roof design, the overall shape tends to a sports SUV. The waistline on the side extends rearward and upward, and the sloping design accentuates its sporty feel. Like the NIO's model, the car also features a hidden door handle.
On the rear side, the car's D-pillar features a large angle of inclination, similar to hatchback style. The T-shaped taillights are extremely individual. In the center of the taillights, the badge "HYCAN" is marked. At present, the power information about the new car has not been exposed, but from the news we have obtained, GAC will be mainly responsible for the R&D and production of the whole vehicle, NIO will provide intelligent network technology and energy support system, which means that the new car is expected to adopt pure electric drive.