On September 19, 2020, Enovate Motors, a Chinese EV startup's first mass-produced EV, Enovate ME7 (Check technical specs), was officially launched. The new car was built using the officially defined "Pioneer Reconstruction Aesthetics" design concept. The interior is based on five-screen interconnection. For the basic smart cockpit, the new car has two range versions and a total of 5 variants. The NEDC range is 410km and 530km respectively, and the price after comprehensive subsidies is 218,800 to 289,800 yuan (~US$32,338 – US$44,162).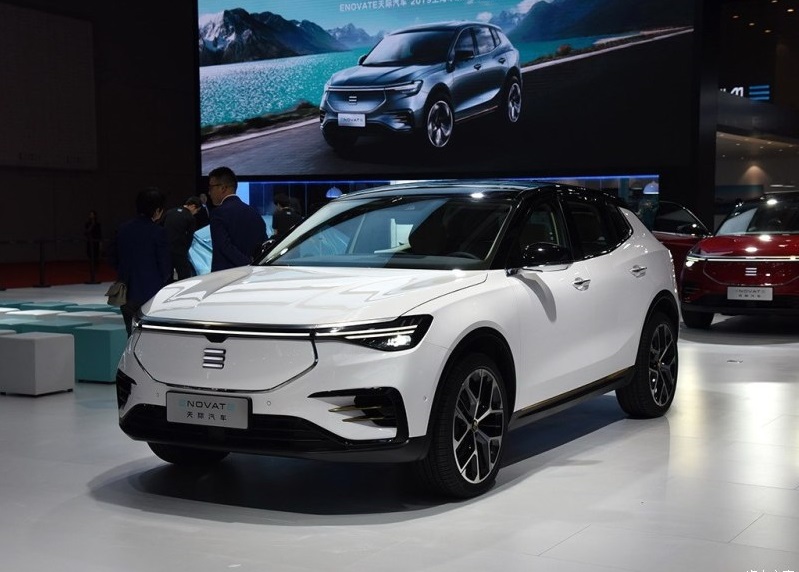 The appearance of Enovate ME7 adopts the officially defined "Pioneer Reconstruction Aesthetics" design language, and the overall lines are rich and angular. The front grille of the new car adopts a closed grille, the headlight group adopts LED light source, and forms a bar-type design with the LED light strip under the front cabin cover, which visually makes the body appear wider. In terms of details, the internal structure of the headlights and the air intake holes on both sides of the front bumper all use elements that echo the badge, which adds to the sense of hierarchy of the vehicle.
The sidelines of the car are relatively smooth, and the two-section waistline and floating roof design make it look not monotonous. The car uses a short front and rear suspension design, with prominent front and rear wheel arches, two-color and sporty wheels, creating a strong sporty atmosphere. In terms of size, the length, width and height of the new car are 4685/1970/1660mm respectively, and the wheelbase reaches 2830mm.
In the interior design, the new car's surrounding starry sky atmosphere lights, the front row conjoined three-screen instrument panel can be displayed interactively, and the dual screens behind the front seats form a "five-screen instant interconnection" scene. The interior adopts an enveloping design, the ivory white/blue color matching interior is elegant and elegant, and the leather covering is supplemented by the double stitching process, which has an excellent visual effect.
In terms of power, the new car is equipped with a permanent magnet synchronous motor with a maximum power of 160kW (218Ps) and a maximum torque of 330N·m. The new car uses NCM622 system soft-pack batteries provided by Wanxiang Group, and the cruising range of the two range versions under NEDC working conditions is 410km and 530km respectively. In addition, Enovate ME7 is equipped with L2 advanced driving assistance system, which can realize 16 intelligent driving assistance functions including ACC adaptive cruise, APA automatic parking, and AEB active emergency braking functions.