Enovate Motors, many friends are relatively new to this vehicle brand, but when it comes to DearCC Automobile (Chinese say:电咖汽车,DianKa), maybe someone will hear it. Enovate Motors is right the high-end brand of DianKa. Enovate ME7 – the first all-electric SUV model from Enovate Motors finally unveiled at the 2019 Shanghai Auto Show, and opened pre-sale. Enovate ME7 is a pure electric mid-size SUV powered by a permanent magnet synchronous motor with a maximum power of 170 kW. The NEDC cruising range is up to 310miles(500km). In addition, Enovate Motors also announced the price range of Enovate ME7: 366,800 – 381,800 yuan (~US$54,204 – US$56,420), the price is similar to NIO ES6.
As a fresh man in Chinese auto market, the price of Enovate ME7 is very expensive. Why is the Enovate Motors so confident to set the price of more than 300,000 yuan for its first model? Is Enovate ME7 worthy of such price? To this end, let us take a look at the advantages of Enovate ME7.
The Sci-fi Appearance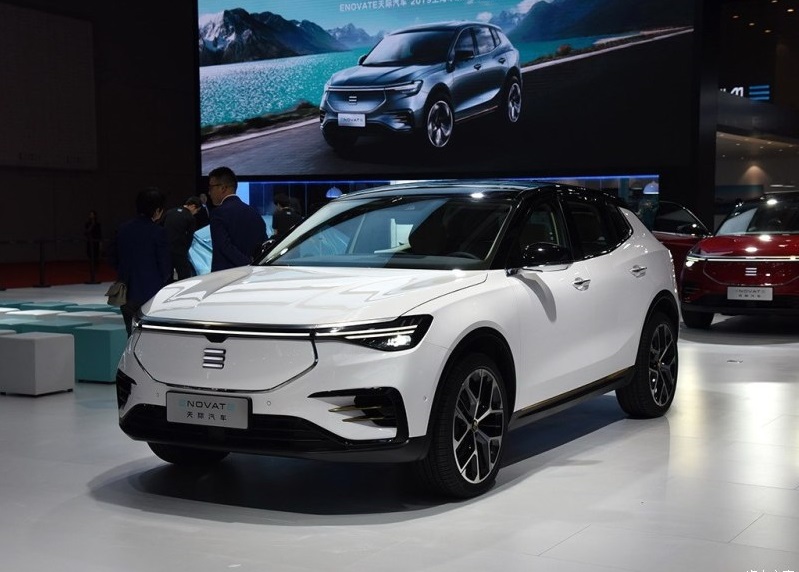 As an all-electric vehicle, Enovate ME7 adopts a closed air intake grille and very sharp line design, matched with sharp LED headlights on both sides, making the front face very sci-fi in visual effect.
Enovate ME7 is equipped with a 21-inch double five-spoke aluminum alloy rim and a suspended roof design that makes it look very stylish.
In the tail part, ME7 has a good sense of layering, the LED taillights are designed with a strip of light, which is highly technical after lighting up.
Overall, the appearance of Enovate ME7 is not only in line with the avant-garde design of pure electric vehicles, but also has a very good sense of hi-tech.
Hi-tech Sense in Interior
The interior of Enovate ME7 also gives people a strong sense of future. The first to introduce the eye is the three full LCD screen on the center console, it is even one more than Tesla, it can be said it completely surpassed the traditional fuel models under the same price in the sense of hi-tech.
In addition, in order to further enhance the technology atmosphere, physical buttons has been greatly reduced in the interior of Enovate ME7, the function switches on the central control have been designed as touch buttons. Not only that, Enovate ME7 also did a good job for the rear passengers, there are also two 12.8-inch LCD screens (optional) behind the front row headrests.
Intelligent Driving & Infotainment
The most interesting is the L2.5 autonomous pilot system. Offical says that there are 22 visual and radar wave sensors on vehicle to ensure the full range of perception and monitoring of the vehicle while driving, this is to ensure to the L2.5 autonomous pilot system. ENOVATE ME7 can achieve autonomous cruise at full speed range (0-150km/h), it consisting of three technologies: ACC (Adaptive Cruise Control), ICA (Intelligent Cruise Assistance), and TJA (Traffic Jam Assistance). The vehicle is driven centrally according to the road marking, or it can automatically accelerate and decelerate along the driving trajectory of the preceding vehicle to achieve the follow-up & stop and automatic start. Drivers do not need to intervene in the throttle, brake, and steering.
APA (Automatic Parking Assistance) with parking radar, the APA system automatically detects and identifies parking spaces that can be parked, actively assesses potential obstacles in the environment, calculates parking trajectories and helps drivers automatically park into parking spaces. Enovate ME7 can support: parallel parking & exiting, vertical parking or angle parking.
Infotainment & Configuration
Enovate ME7 offer total 5 LCD display (3 in front, 2 in rear row) to enhance the luxury; it also offers a 1.1㎡ oversized panoramic sunroof; fully automatic air conditioner with 6 high-precision sensors; 6-way front seat electric adjustment function; optional 9-stage adjustable front seat heating, it can realize APP remote operation, advance heating, automatic stop heating; wireless charging, etc..
For consumers, the cruising range played a key role in the purchase of a pure electric vehicle at the moment. Enovate ME7 is powered by the latest permanent magnet synchronous motor from Bosch, the maximum power is 170 kW, the energy density of battery system provided by Wanxiang Group is up to 160 wh/kg. The NEDC range reaches 310miles(500km), the official also gives a maximum battery range of 434miles(700km). The NIO ES6, which is similar in price to Enovate ME7, has a four-wheel drive system with a front permanent magnet synchronous motor and a rear asynchronous motor. However, the NEDC comprehensive range of the entry model is only 260miles(420km).
At present, as long as consumer purchase ENOVATE ME7 model, they can enjoy the 3 years of free vehicle insurance, 3 years of free vehicle maintenance and 3 years of free public charging. In addition, ENOVATE ME7 will offer a free gift charging pile, lifetime free quality guarantee, lifetime free road rescue, lifetime free traffic and many other rights and interests… In one word, they offer you all what you want. 🙂
Finally, back to the question, why can Enovate ME7 sell for 300,000 yuan? In the eyes of consumers, perhaps the interior and exterior design and cruising range of Enovate ME7 played a crucial role, from the manufacturer's point of view, the quality of the German system and the marketing policy are the most important factors, in our opinion, all the above advantages are inseparable that Enovate ME7 dare to sell more than 300,000 yuan… Anyway, we still don't know if Chinese consumers will accept this vehicle based such price as they are many competitors coming soon, we will continue pay attention on it.
About ENOVATE MOTORS
ENOVATE MOTORS was originally called DearCC Automobile (Chinese say:电咖汽车,DianKa). DearCC is an Chinease innovative new energy auto enterprise with Internet ideal.
Team members of ENOVATE MOTORS are gathered by elites from Volkswagen, Porsche, General Motors, Volvo, Jaguar Land Rover and other leading car companies. The core members have more than 20 years of industry experience.
Established in 2015, DearCC Auto is an innovative new energy vehicle that integrates R&D, manufacturing, sales and service of pure electric vehicles.
Not long ago, DearCC Auto changed its name to ENOVATE MOTORS. In addition, ENOVATE MOTORS official said that it is nearing completion of Series A financing, ENOVATE MOTORS current valuation has exceeded 1.85 billion US dollars.
Enovate ME7 is the first production model of ENOVATE Motors. The former DearCC Auto also launched a pure electric A0-class car named EV10. The current EV10 is the Pro300 version with range of 158miles (255km) in comprehensive working conditions, it also claimed a max. range of 198miles(320km). The price of EV10 covers from 58,800-67,800RMB (USD8,910 – 10,100).
ENOVATE MOTORS's Smart Factory is currently under construction to prepare for the mass production of its first production model ENOVATE ME7, it is located in Shaoxing, Zhejiang Province China.
"As a user-defined company, our goal is to create a high-end smart travel terminal for the future. We hope to have a deep insight into the needs of users, with 'strength + innovation', manufacturing plus service, hardware plus software, speed plus quality, with ' interesting products ', 'products + services, open up the 'online + offline' value chain, Building a service ecosystem for full-scale scenarios of user travel. Make the ENOVATE brand a high-end travel technology explorer to explore the beauty of mobile travel with users. "


Dr. Zhang Hailiang, CEO of Enovate Motors, interpreted the vision of the ENOVATE brand at the press conference.