Chery Riich G6's external shape is almost same as G5 except body size's bigger
I believe that everybody has been already familiar with the previous model Riich G5, and the Riich G6 we are introducing today is same level which basically inherited G5's appearance as its family style, including front air grille, headlights, taillights and body lines, all of them are very similar and Riich G5, the only difference is that G6 is obviously more luxury.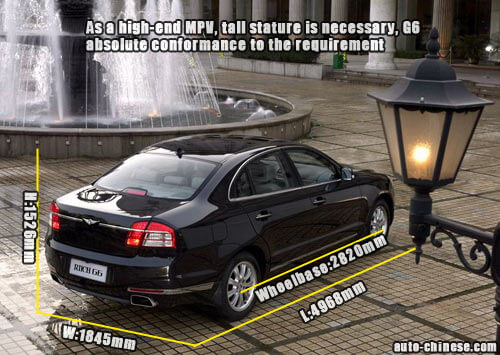 Although it is the same mid-size class model as G5, Riich G6 is bigger than G5 in body size, the wheelbase is also120mm longer, so G6 looks more lordly, decorative chrome plating is everywhere over the body, It is obvious that is a luxury business style model.
Riich G6 is equipped with an automatic steering function Xenon headlamp, headlamp can change the irradiation angle by automatically following the variation of vehicle angle, such as uphill, downhill, turning and etc., and also equipped with daytime running lights, very fashionable profile.

We may smell it is really a luxury model from the appearance, and the good process lever can be completely compared with the joint brand, Let' just experience how luxurious it is in it's interior trim!
[Riich G6's multi-spoke aluminum-alloy wheel, size is 215/55 R17, in fact, if it will be better to replace with chrome-plated metal VIP style]
[amzn_multi_product_inline keyword='GPS' count='4′ page=" sort=" category='Automotive']