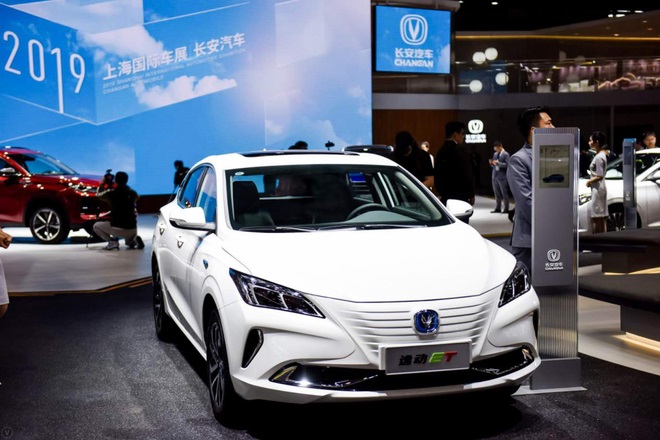 Changan's new EV: EADO ET (Yidong) was unveiled again during the 2019 Shanghai Auto Show,. It had already made its debut at the 2018 Guangzhou Auto Show. EADO ET is based on fuel version the 2nd generation of EADO XT. It claimed a cruising range of 251miles(405km) under the NEDC standard and will be officially launched in May 2019.
EADO ET says in Chinese "逸动"(Yidong), it is a compact hatchback. In overseas version it named EADO, it is actually based on the 2nd generation of EADO XT, a fuel model which is not yet released in overseas market.
EADO ET maintains almost same as the fuel version EADO XT, but its front mesh uses a closed design with the same color as the body. The rear of the new car is designed to be the same as the 2nd generation EADO XT, even the exhaust pipe trim is retained. The "T" shaped taillights and the hatchback structure make the car look very dynamic. Size of 4535/1820/1530mm, wheelbase is 2700mm.
Although the production model of EADO ET interior is not released, the official said that the new car uses the unique single-pedal design for this all-electric car, but for ordinary users, it may take time to adapt. According to the previously released EADO ET trial version, the overall interior design should be the same as 2nd generation of EADO XT.
The specification information of the power is not known yet. The official only announced that its cruising range under the NEDC standard can reach 251miles (405km). It takes 35 minutes for the battery to charge from 20% to 80%. In terms of configuration, EADO ET will be equipped with Changan's latest in call 3.0 interconnection system coming with 4G network, 10inch display, and equipped with battery pack intelligent electric heating system, ESP, tire pressure monitoring. We will continue to pay attention to more news about EADO ET.